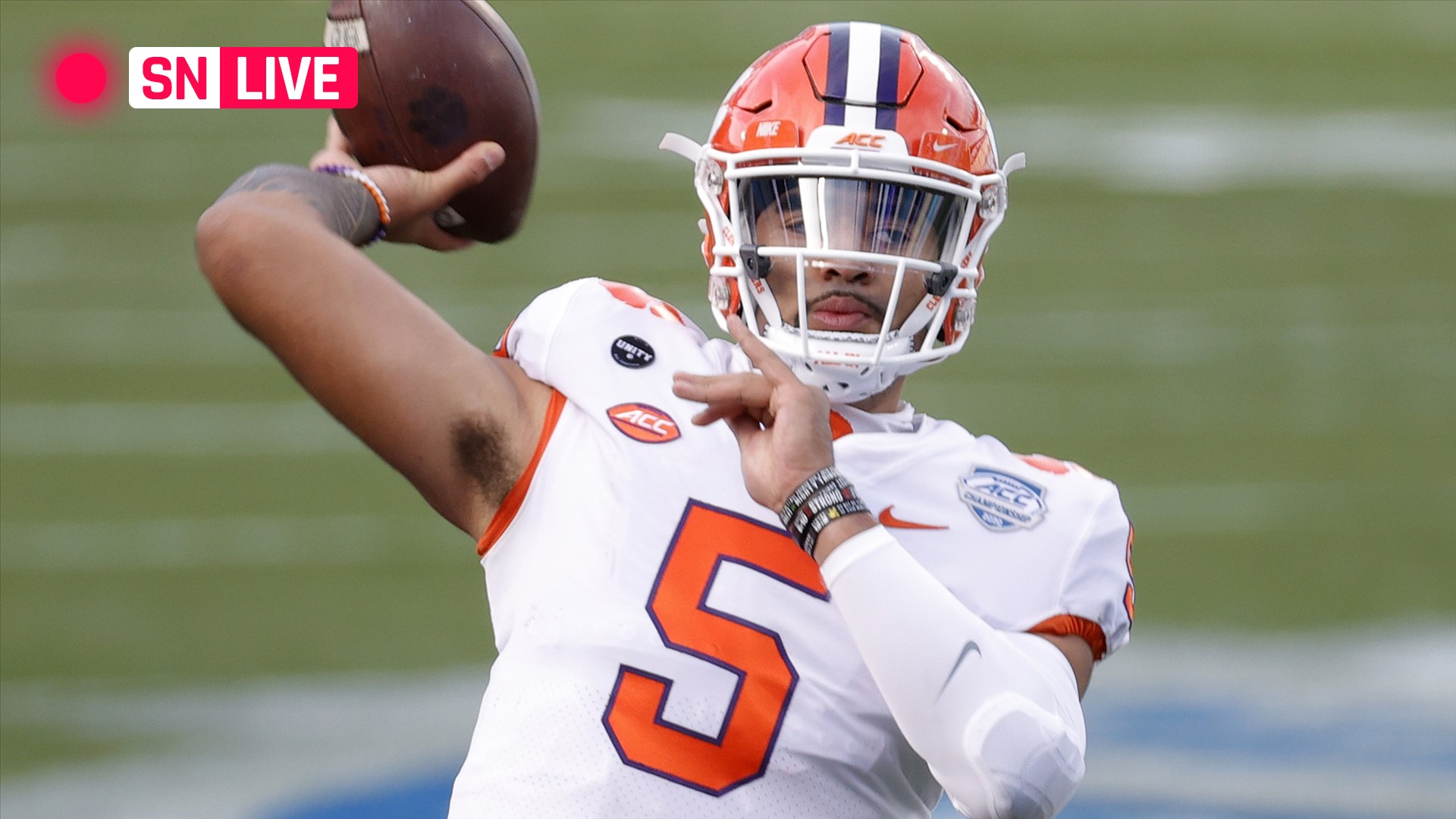 No. 3 Clemson faces No. 5 Georgia on Saturday at 7:30 p.m. ET at Bank of America Stadium in Charlotte, North Carolina. The game will be televised by ABC. 
The Tigers, who lost to Ohio State in the College Football Playoff last season, will begin a new era under sophomore quarterback DJ Uiagalelei, who will be replacing Trevor Lawrence. Clemson also lost running back Travis Etienne but has a number of returning players on offense, which gave coach Dabo Swinney confidence that his group can succeed this season. 
"This team is definitely further along than last year's group," Swinney said in the spring, according to Athlon Sports . 
The Bulldogs, who won the Peach Bowl last season, return seven of 11 offensive starters and enfrolled the nation's No. 4 recruiting class, according to the 247Sports Composite . The group was led by offensive tackle Amarius Mims, the No. 8 prospect nationally, and quarterback Brock Vandagriff, the fourth-ranked signal-caller in the nation. 
The winner of Saturday's game is likely to have a big advantage in potentially advancing to the College Football Playoff. Georgia is looking for its second berth in the tournament, having fallen to Alabama in the national championship game in 2017. Clemson has made the playoff in each of the last six seasons, winning two national championships and advancing to the title game four times. 
Sporting News is tracking live updates and highlights from Georgia vs. Clemson on Saturday. Follow for complete results of the game. 
MORE:  Watch Clemson vs. Goergia live with fuboTV (7-day free trial)
Georgia vs. Clemson score
| | | | | | |
| --- | --- | --- | --- | --- | --- |
|   | Q1 | Q2 | Q3 | Q4 | F |
| Clemson | – | – | – | – | – |
| Georgia | – | – | – | – | – |
Georgia vs. Clemson live updates, highlights
Live updates will begin around kickoff at 7:30 p.m. ET.
8:03 p.m.: Georgia was whistled for a delay of game on fourth-and-3 at Clemson's 42-yard line, negating a chance for the Bulldogs to attempt a conversion. Camarda then punted 45 yards to Clemson's 2-yard line. Still no score. 
7:58 p.m.: Clemson sophomore quarterback DJ Uiagalelei was sacked by Georgia junior linebacker Nolan Smith on third-and-8 at the Tigers' 4-yard line. Clemson senior Will Spiers punted for 51 yards before Georgia junior wide receiver Kearis Jackson returned the ball for six yards to the Tigers' 49-yard line. 
7:52 p.m.: Georgia freshman offensive guard Tate Ratledge was observed being carted off the field after an apparent injury. His status for the remainder of the game is uncertain. 
7:52 p.m.: Clemson forced Georgia off the field, forcing a 1-yard pass on third-and-8. Bulldog senior punter Jake Camarda punted 38 yards on fourth-and-7, down to the Tigers' 10-yard line. 
7:48 p.m.: Georgia junior quarterback JT Daniels completed a four-yard pass to sophomore receiver Marcus Rosemy-Jacksaint for a first down on third-and-4. 
7:46 p.m.: Clemson won the coin toss and deferred. Georgia junior running back Kenny McIntosh returned the ball to the the Bulldogs' 25-yard line. 
7:40 p.m.: Former Clemson and current Jacksonville Jaguars quarterback Trevor Lawrence is in attendance for Saturday's game. 
ESPN's 'College GameDay' was set up outside Bank of America Stadium in Charlotte, North Carolina, to preview Saturday's game between the third-ranked Tigers and fifth-ranked Bulldogs. Here are some of the highlights from the morning. 
How to watch Georgia vs. Clemson
Time: 7:30 p.m. ET 
TV channel: ABC 
Live streams: WatchESPN, fuboTV  
Clemson vs. Georgia will air live on ABC, beginning at 7:30 p.m. ET. You can stream the game live online with WatchESPN or on fuboTV, which offers a free seven-day trial. 
Clemson football schedule 2021 
| | | |
| --- | --- | --- |
| Week | Date | Opponent |
| Week 1 | Sept. 4 | vs. Georgia (Charlotte) |
| Week 2 | Sept. 11 | vs. South Carolina State |
| Week 3 | Sept. 18 | vs. Georgia Tech |
| Week 4 | Sept. 25 | at NC State |
| Week 5 | Oct. 2 | vs. Boston College |
| Week 6 | Oct. 15 | at Syracuse |
| Week 7 | Oct. 23 | at Pittsburgh |
| Week 8 | Oct. 30 | vs. Florida State |
| Week 9 | Nov. 6 | at Louisville |
| Week 10 | Nov. 13 | vs. UCONN |
| Week 11 | Nov. 20 | vs. Wake Forest |
| Week 12 | Nov. 27 | at South Carolina |
Georgia football schedule 2021
| | | |
| --- | --- | --- |
| Week | Date | Opponent |
| Week 1 | Sept. 4 | vs. Clemson (Charlotte) |
| Week 2 | Sept. 11 | vs. UAB |
| Week 3 | Sept. 18 | vs. South Carolina |
| Week 4 | Sept. 25 | at Vanderbilt |
| Week 5 | Oct. 2 | vs. Arkansas |
| Week 6 | Oct. 9 | at Auburn |
| Week 7 | Oct. 16 | vs. Kentucky |
| Week 8 | Oct. 30 | vs. Florida |
| Week 9 | Nov. 6 | vs. Missouri |
| Week 10 | Nov. 13 | at Tennessee |
| Week 11 | Nov. 20 | vs. Charleston Southern |
| Week 12 | Nov. 27 | at Georgia Tech |