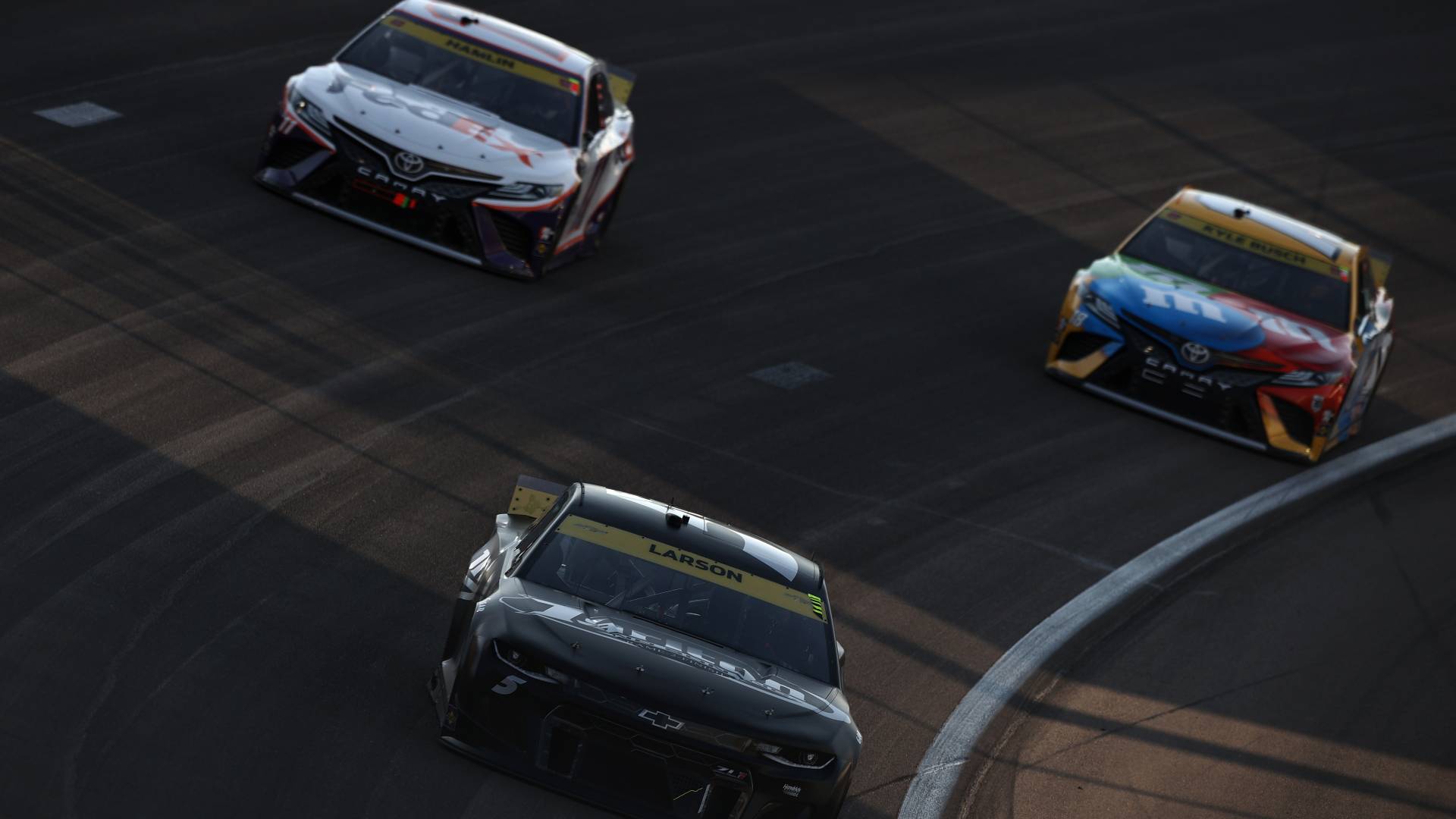 Forty cars will line up on Sunday to compete in what will likely be one of NASCAR's most chaotic races of the season.
The NASCAR Cup Series is hosting the second Round of 12 race at Talladega Superspeedway in Alabama. Although the weather may cause some delays, the drivers will race 188 laps in order to advance to the next round. With 40 cars on the track, crashes and collisions will be challenging to avoid.
Denny Hamlin is the defending Talladega champion, stealing victory in 2020 by .023 seconds. Coming off a win at Las Vegas Motor Speedway last week, Hamlin already secured his position into the next round. Hamlin and Kyle Busch are expected to lead into the green flag, followed by Chase Elliott and Ryan Blaney.
Team Penske has won five of the last seven playoff races at Talladega, and Ford has nine drivers with prior wins. Eighth-place driver Brad Keselowski leads the manufacturer with six wins, including the spring 2021 event. Seventh-place driver Joey Logano has three wins for Ford; Blaney has two and Kevin Harvick, one.
Sporting News is tracking live updates and highlights from the YellaWood 500 on Sunday. Follow for complete results from the 2021 NASCAR Playoff Cup Series.
MORE: Watch the YellaWood 500 live with fuboTV (7-day free trial)
NASCAR at Talladega Superspeedway updates, highlights from YellaWood 500
All times Eastern.
3:03: The cars finally exit the garages and head for pit road, the broadcast confirms the race will start in approximately 30 minutes.
2:10: Jet driers attempt to dry the track following a drizzle. The race is under a rain delay, follow for weather updates. 
NASCAR start time today
Time (ET): 2 p.m.
TV channel: NBC
Live stream: NBCSports.com, NBC Sports App, fuboTV
The green flag for Sunday's NASCAR Cup Series playoff race on Talladega Superspeedway's 2.66-mile oval is scheduled to drop at 2 p.m. ET.
Potential showers will likely be the biggest weather concern on Sunday. The National Weather Service's forecast for Lincoln, Ala. shows a chance of showers and possibly a thunderstorm after 1 p.m., with a high near 79. There is a chance the race may encounter a rain delay. It is scheduled to begin in the afternoon and end around sunset Eastern time.
NASCAR Cup playoff standings
Kyle Larson leads the playoff standings as the second Round of 12 race begins. On the other end are the drivers below the cut line: William Byron, Kevin Harvick, Alex Bowman and Christopher Bell. Byron trails eighth-place driver Brad Keselowski by only four points.
A playoff driver who wins a race in the Round of 12 automatically advances to the next round.
| | | |
| --- | --- | --- |
| Pos. | Driver | Points |
| 1 | Kyle Larson | 3096 |
| 2 | Denny Hamlin | 3082 |
| 3 | Kyle Busch | 3074 |
| 4 | Martin Truex Jr. | 3070 |
| 5 | Ryan Blaney | 3063 |
| 6 | Chase Elliott | 3061 |
| 7 | Joey Logano | 3045 |
| 8 | Brad Keselowski | 3043 |
| 9 | William Byron | 3039 |
| 10 | Kevin Harvick | 3036 |
| 11 | Alex Bowman | 3030 |
| 12 | Christopher Bell | 3018 |
NASCAR starting lineup at Talladega Speedway
Here is the complete NASCAR starting lineup for Sunday's playoff race at Talladega Superspeedway, the YellaWood 500.
| | | | |
| --- | --- | --- | --- |
| Start pos. | Driver | Car No. | Team |
| 1 | P-Denny Hamlin | 11 | Joe Gibbs Racing |
| 2 | P-Kyle Busch | 18 | Joe Gibbs Racing |
| 3 | P-Chase Elliott | 9 | Hendrick Motorsports |
| 4 | P-Ryan Blaney | 12 | Penske Ford |
| 5 | P-Kyle Larson | 5 | Hendrick Motorsports |
| 6 | P-Martin Truex Jr. | 19 | Joe Gibbs Racing |
| 7 | P-Brad Keselowski | 2 | Penske Ford |
| 8 | P-Joey Logano | 22 | Penske Ford |
| 9 | P-Kevin Harvick | 4 | Stewart-Haas Racing |
| 10 | P-William Byron | 24 | Hendrick Motorsports |
| 11 | P-Alex Bowman | 48 | Hendrick Motorsports |
| 12 | P-Christopher Bell | 20 | Joe Gibbs Racing |
| 13 | Tyler Reddick | 8 | Richard Childress Racing |
| 14 | Kurt Busch | 1 | Chip Ganassi Racing |
| 15 | Matt DiBenedetto | 21 | Wood Brothers Racing |
| 16 | Austin Dillon | 3 | Richard Childress Racing |
| 17 | Chase Briscoe | 14 | Stewart-Haas Racing |
| 18 | Daniel Suárez | 99 | Trackhouse Racing |
| 19 | Bubba Wallace | 23 | 23XI Racing |
| 20 | Aric Almirola | 10 | Stewart-Haas Racing |
| 21 | Rickey Stenhouse Jr. | 47 | JTG Daugherty Racing |
| 22 | Michael McDowell | 34 | Front Row Motorsports |
| 23 | Ross Chastain | 42 | Chip Ganassi Racing |
| 24 | Chris Buescher | 17 | Roush Fenway Racing |
| 25 | Ryan Newman | 6 | Roush Fenway Racing |
| 26 | Erik Jones | 43 | Richard Petty Motorsports |
| 27 | Ryan Preece | 37 | JTG Daugherty Racing |
| 28 | Cole Custer | 41 | Stewart-Haas Racing |
| 29 | Corey LaJoie | 7 | Spire Motorsports |
| 30 | Anthony Alfredo | 38 | Front Row Motorsports |
| 31 | Cody Ware | 51 | Petty Ware Racing |
| 32 | BJ McLeod | 78 | Live Fast Motorsports |
| 33 | Justin Allgaier | 77 | Spire Motorsports |
| 34 | Josh Bilicki | 52 | Rick Ware Racing |
| 35 | Quin Houff | 00 | StarCom Racing |
| 36 | Joey Gase | 53 | Rick Ware Racing |
| 37 | Garrett Smithley | 15 | Rick Ware Racing |
| 38 | Justin Haley | 16 | Kaulig Racing |
| 39 | David Starr | 66 | Motorsports Business Management |
| 40 | Landon Cassill | 96 | Gaunt Brothers Racing |