GLENDALE, Ariz. — Tony Siragusa had talked last year with friends and fellow former NFL players about his hopes for a charity effort. He wanted to give hospitalized children and their families the experience of dream trips, all the way to traveling in comfort on a private jet.
Siragusa died unexpectedly in his sleep last June, only 55 years old, but his family has been able to carry on his vision and a wish to bring joy to others, and that took a huge step forward this week.
On Sunday, his daughter Sammi will watch the Eagles and Chiefs in Super Bowl LVII with the Winstead family of Louisville, Kentucky, whose past year has been a difficult challenge as well. They are the first recipients of "Goose Flights," the Siragusa family's charity, giving children and young adults dealing with adversity a dream trip in a private jet to experiences like this.
"This has been absolutely incredible," Sammi said Saturday. "Everything we've done leading up to this point has completely paid off, and you could see that just by the Winstead's reaction. It's just been absolutely amazing. I'm almost speechless."
Cayden Winstead, 23, fell and hit his head while at a friend's house one night last February, and before anyone realized he was injured, he had gone hours without oxygen to his brain.
The initial word from doctors to his parents, Leslee and Chris, wasn't good, telling them they might have a difficult decision ahead with limited hope for recovery. But they reached out to Kindred Hospital in Louisville, and Cayden's recovery has been steady and amazing. 
So many parts of daily life most take for granted, once in jeopardy, are slowly returning. He could not speak initially but has regained his voice and his sense of humor; he could not see initially, but is regaining his vision, and he continues to make remarkable progress physically, even able to stand with help.
"They didn't give up, and you can look back on a year and see what happens when you have faith and perseverance," Sammi said. "You don't give up, and that's one thing my dad would say all the time: Don't give up. That is Cayden, that is his story, that is his family's story. All the hard work he's put in for all of these months, to find the strength to start moving, all of that determination has led him here."
So, two families flew together to Arizona, bonding over a year of grief and hope, joining for a memorable weekend that will culminate with Sunday's game. 
A trip to the Super Bowl — Siragusa won one with the Ravens 22 years ago in 2001 — and to FOX's broadcast studios, which he was a part of for nine years, hit home for Sammi as she still grieves her father's passing.
"It's as personal as you get," she said. "I've come to Super Bowl events with him in the past, and he had such a heart for all these festivities. To do it without him is really hard, but I just know that he's here with us, guiding us, and he's led me to Cayden. To be able to do the things that I've done with my dad, and now do them with Cayden and the Winsteads, it's been extremely special."
The four-hour flight was the Winsteads' first as a family, and the group had quite a memorable Friday morning visit to State Farm Stadium, where the Eagles and Chiefs will meet Sunday. The Winsteads, Sammi and others with Goose Flights spent time at FOX's studio lot just outside the stadium. They toured the green room, meeting Raiders tight end Darren Waller after a TV appearance. When Friday's edition of "Undisputed" with Skip Bayless and Shannon Sharpe finished taping, they met Sharpe, who won a Super Bowl with Siragusa with the Ravens in 2001.
"Goose was great," Sharpe said after a few moments with the family. "We balanced each other out — he was the guy for the defense to keep the practical jokes going, and my job was to do that on the other side of the football. He was always lightening the mood. You could never be down around Goose. The sun was always shining. It was always going to be a great day. 
"He was the most fun-loving guy to be around, and his heart and his personality was as big as his body. If you only spent a day or even an hour with Goose, to be around him, you understood what a giant personality and great person he was."
Goose Flights charity brings Winstead family to Super Bowl
Goose Flights is a charity started in honor of the life of Tony Siragusa. Its aim is to arrange transportation for children and young adults in need. This year, they brought Cayden Winstead and his family to Super Bowl LVII in Arizona.
They proceeded to the set of "The Herd," while Colin Cowherd was broadcasting live, and they got to meet with former Pro Bowl tight end Greg Olsen, who will be part of FOX's broadcast crew for Sunday's game. Standing not far off camera, Olsen had to shush himself ("I'm a loud talker") as he engaged with Cayden and his family before an appearance on the show.
The group got to see more of FOX's massive operation preparing for Sunday's game, including one of the production booths where dozens of camera feeds and edited replays can be screened and used in the broadcast. This unit's producer and director had both worked with Siragusa in his FOX days, and by coincidence, the technical director goes by "Goose" as well.
They let the family in on some industry secrets: Camera views are all numbered — at least 40 in one array of monitors — but accounts for edited video, like replays, are identified by names, like Sigma, Peoria, Boise, Gold. They even brought in high-school football teams to run simulated plays on the field, just to test the cameras going through real football action in Friday's rehearsal.
Their tour actually got them into the stadium and even onto the sidelines, standing just off the field as actress Sheryl Lee Ralph practiced "Lift Every Voice and Sing," which she will sing before the game. They went up to the actual broadcast booth the game will be called from as well.
Among the group was a Super Bowl legend in former Giants running back Ottis "O.J." Anderson, a two-time Super Bowl winner and MVP with the Giants in 1992. Watching Ralph practice her singing for Sunday, Anderson remembered how close he was when Whitney Houston famously sang the national anthem. He had talked with Siragusa about his vision for helping kids just a week before he died last year, and wanted to be a part of Cayden's trip, proudly wearing both Super Bowl rings and covering Cayden with his denim jacket to keep him warm as they went about their tour.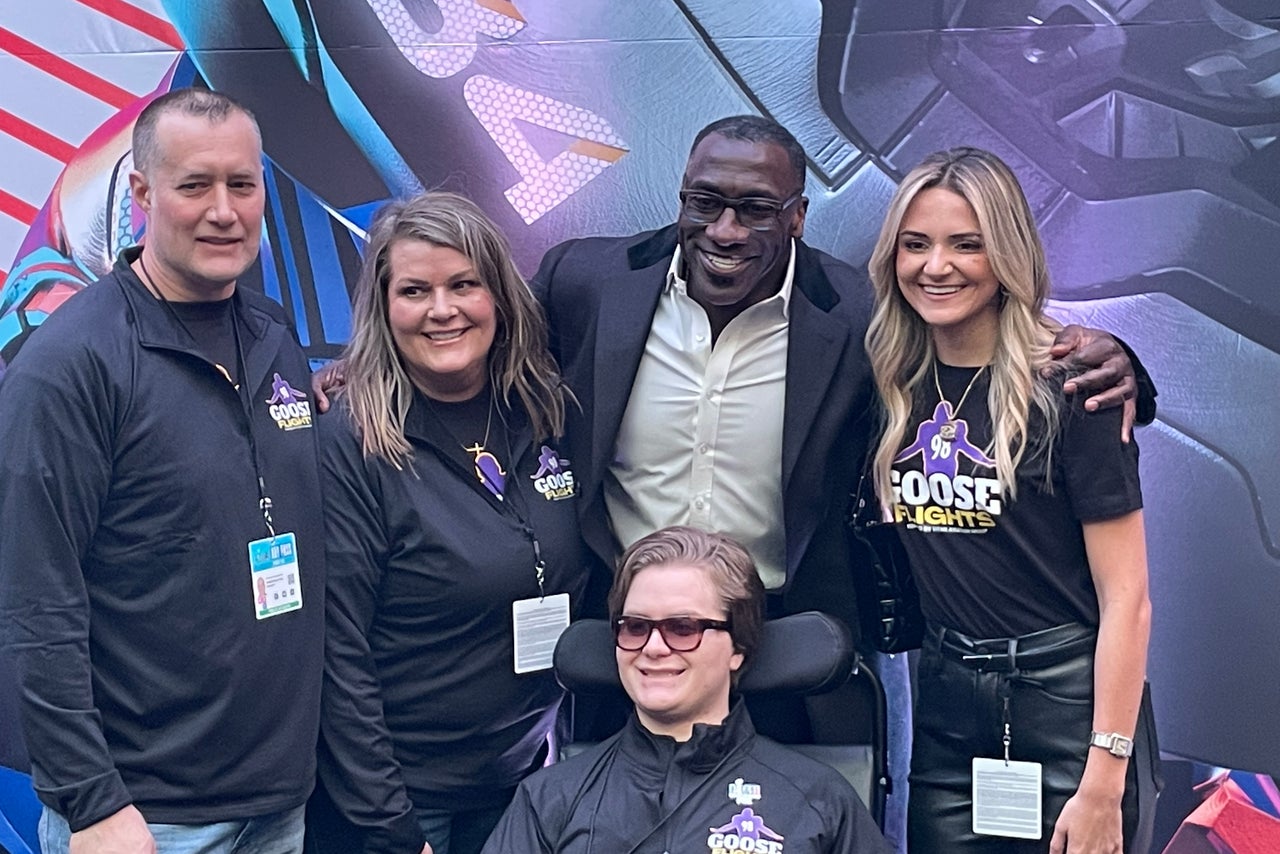 Hall of Famer Shannon Sharpe, center, meets with, from left, Chris and Leslee Winstead and their son Cayden Winstead, along with Sammi Siragusa, right. (FOX Sports photo)
When the Siragusa family chose the Winsteads for their first Goose Flight trip, they didn't realize that Sunday and the Super Bowl would also mark the one-year anniversary since Cayden's fall. It's quite a way to mark the passing of a year, with so much progress in his recovery and much more to come.
Sammi said Goose Flights has ambitions to deliver experiences like this much more often than on Super Bowls, with hopes of setting up multiple trips a month, working with hospitals to find more families like the Winsteads.
"We want to be the No. 1 charity that hospitals can turn to for transportation for kids. We want to be doing these constantly," she said. "We have big goals. We want to have our own private jet that we're able to transport everybody on. Part of my dad's vision was to get a jet, have it wrapped as a football with Goose Flight's logo on it, and he wanted purple snakeskin interior."
The purple snakeskin hasn't happened, but the spirit of what he dreamed of is now a reality, and his daughter is eager to bring joy to as many people as she can, just like her father did.
"Before he left us, he left us an outline of his whole entire vision," she said. "So we came in and just said 'Let's do this.'"
Greg Auman is FOX Sports' NFC South reporter, covering the Buccaneers, Falcons, Panthers and Saints. He is in his 10th season covering the Bucs and the NFL full-time, having spent time at the Tampa Bay Times and The Athletic. You can follow him on Twitter at @gregauman.  
Top stories from FOX Sports:
FOLLOW
Follow your favorites to personalize your FOX Sports experience
---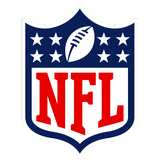 Get more from National Football League Follow your favorites to get information about games, news and more
---
---