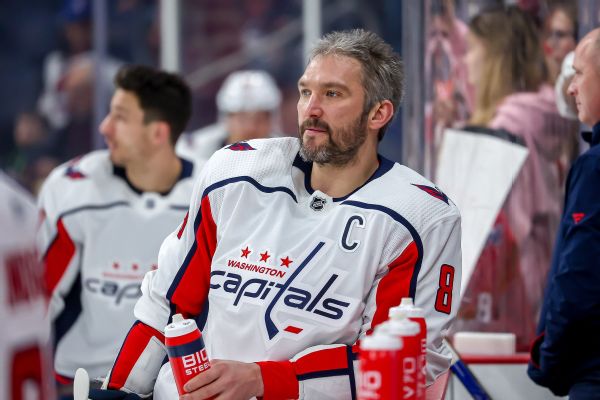 Alex Ovechkin is expected to be gone for at least the rest of the week, if not longer, after the Washington Capitals star announced Wednesday that his father has died.
General manager Brian MacLellan announced Ovechkin's absence before the team's morning skate Tuesday. No further details were released at that time.
Ovechkin announced that his father had died in an Instagram post Wednesday that included family photos and video.
"Today my father passed away," Ovechkin posted in Russian. "I thank everyone for their support but ask that you be understanding and not disturb my family at such a hard time for us! Thank you."
The team on Wednesday had yet to provide information on when Ovechkin would return to the team, but coach Peter Laviolette said Tuesday that he doesn't envision Ovechkin will be back "in the foreseeable future."
"When it comes to your family and parents, that's what matters," Laviolette said Tuesday. "He's going to deal with some things right now, and we're going to be supportive."
Ovechkin's father had not been in Washington in recent years while dealing with health issues at home in Moscow. Before that, Mikhail was a familiar face at games and at the Capitals' practice facility.
"Mr. Ovechkin was a true gentleman and was such a significant and consistent presence at Capitals games and practices," the team said in a statement. "With a constant smile on his face, he loved interacting with our fans and expressing his gratitude for their support of his son, of whom he was incredibly proud.
"Our organization's thoughts are with the Ovechkin family at this difficult time."
Complicating matters concerning his return will be if Ovechkin needs to go home to Russia, where his parents and other family members live. There are travel restrictions in place amid the country's war in Ukraine, and there are no direct flights between North America and Moscow.
The Capitals play at home Thursday before facing the Carolina Hurricanes in the NHL's Stadium Series outdoors in Raleigh on Saturday night.
Ovechkin, 37, leads Washington with 32 goals and 54 assists. He has missed only 48 games throughout his 18-year NHL career, and the Capitals have lost 25 of them.
"We've been playing without key guys all season and last year and the year before. We're going to miss him," center Lars Eller said. "We're a better team when he's in our lineup, but other guys will have to fill the gap in the meantime, and we can do that."
The Capitals have been playing without top defenseman John Carlson since he took a puck to the head on Dec. 23. Also missing are first-line right winger Tom Wilson, fourth-line center Nic Dowd and now Ovechkin, so the team recalled winger Joe Snively from Hershey of the American Hockey League.
In all aspects of the game, Washington looks different without Ovechkin, who is the league's career leader in power-play goals thanks to his signature spot in the left faceoff circle.
"Obviously teams are used to seeing [Ovechkin in] his office, so we all know what he's capable of there, how he can score from there," longtime teammate Nicklas Backstrom said. "Definitely going to miss him, but at the same time we have to find other ways to create chances and try to capitalize there."
The Capitals enter an important stretch in a precarious position: holding on to one of two wild-card spots in the Eastern Conference and in danger of falling out of playoff position by the end of the week. Even before Ovechkin's absence, they averaged 2.27 goals over their past 14 games.
"You've got to score goals to win games," Backstrom said. "You're not going to win games with just one goal. I think we got to be a little more urgent out there, we got to be a little more hungrier around the net."
Ovechkin met with teammates Tuesday before leaving the Capitals' practice facility. That gave players a chance to offer their support before preparing to take the ice without him.
"It's nice to get to see him and give him a hug and let him know that we're here for him in person rather than over text," winger T.J. Oshie said. "We're thinking about him, and we're missing him and wishing him all the best."
The Associated Press contributed to this report.