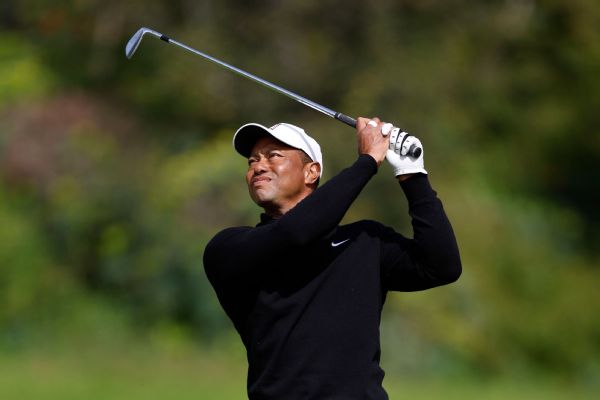 LOS ANGELES — Tiger Woods, playing in an official PGA Tour event for the first time in more than seven months, might need some help to stick around for the weekend at the Genesis Invitational at Riviera Country Club.
Woods, who hosts the event that benefits his foundation, carded a 3-over 74 in the second round on Friday. With a 36-hole total of 1-over par, Woods might be just on or outside the cut line, depending on what happens in the second wave of players on Friday. The top 65 and ties will advance to play the final two rounds.
After shooting even-par 36 on his first nine holes, Woods had bogeys on three of his last four holes in the second round. A day earlier, he birdied each of his last three holes to card a 2-under 69.
Woods' surgically repaired right leg and right foot seemed to hold up under the stress of playing 18 holes in consecutive days.
If Woods makes the cut, it would be the first time he has played four rounds in an official PGA Tour event since he finished 47th at the Masters in April. That was his first official event after he was seriously injured in a car wreck outside Los Angeles in February 2021.
The 15-time major champion played in just nine rounds in three major championships last season. He was forced to withdraw after 54 holes at the PGA Championship at Southern Hills because of pain in his right leg. Woods missed the cut at the 150th Open Championship at St. Andrews in July, which was the last time he had teed it up in an official event before this week.
Woods, 47, complained about having pain in his surgically repaired right ankle after Thursday's opening round. He had about 14 hours to recover and said he was going to get plenty of ice, treatment and rest before returning to Riviera Country Club early Friday morning. Temperatures were in the high-40s when he teed off on No. 10, again with his good friends Justin Thomas and Rory McIlroy, at 10:24 a.m. ET.
Woods' putting looked rusty early in the second round. He missed four putts inside 10 feet in the first nine holes. After making the turn, he missed another 9-footer for birdie on No. 1. His putter got hot from there, however, after he missed the green on each of the next three holes. Woods made putts of 10 feet and 5 feet to save par on Nos. 2 and 3, respectively, and sank another 10-footer for par on the 4th.
Woods caught an unfortunate break on the par-3 sixth hole. His tee shot landed on the green but rolled back and stopped below a greenside bunker. He considered chipping off the green but elected to putt. His putt wasn't nearly hard enough and rolled into the bunker. He was able to get up and down, making a 5-footer for bogey.
Woods made another bogey on the par-4 eighth hole after his tee shot found a fairway bunker and his third shot landed over the green. On the ninth, his last hole, his second shot was short and settled in a greenside bunker. He couldn't get up and down and made another bogey.
The highlight of Woods' round came on the par-3 14th. He hit his tee shot to 10 inches for an easy birdie putt. After carding consecutive pars, Woods made another birdie on the par-5 17th.
For the second straight round, Woods struggled with his accuracy off the tees and hit only five of 14 fairways. He hit only six on Thursday. Woods hit nine of 18 greens and lost nearly two strokes to the field in putting during his round.