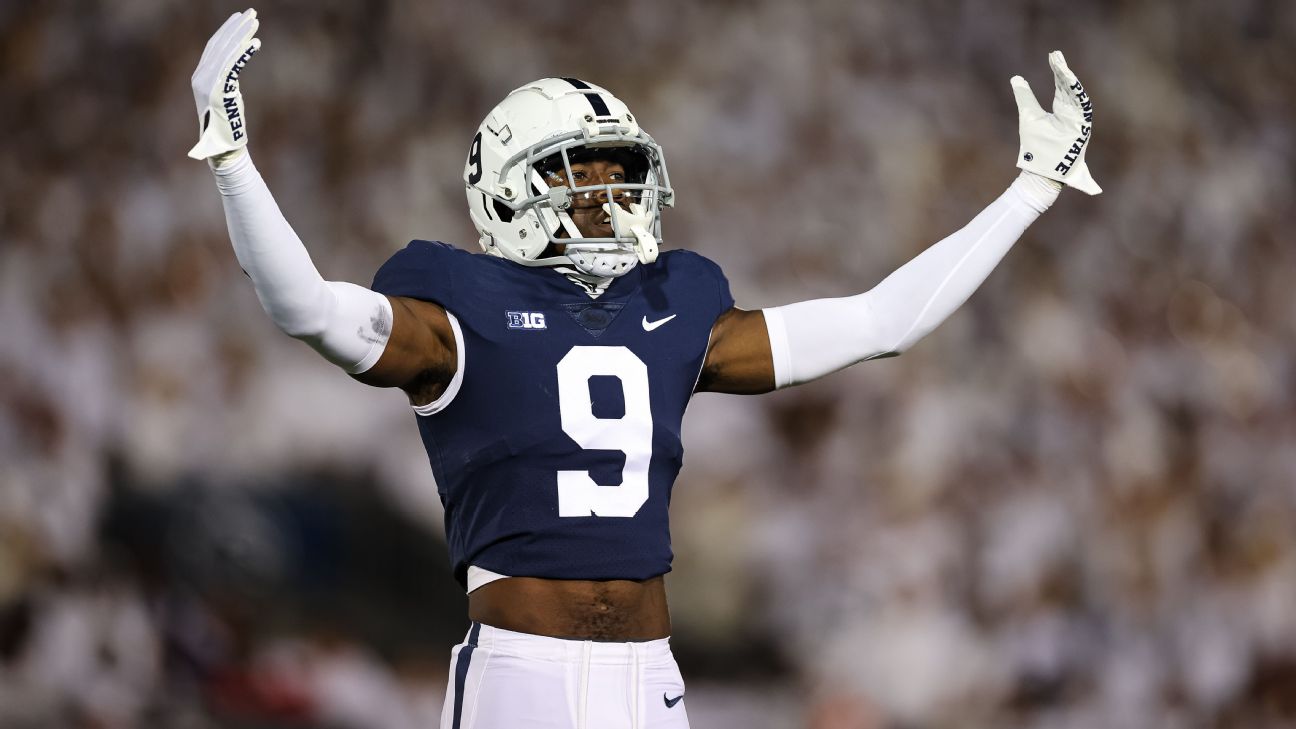 More than two decades after drafting his father, the Pittsburgh Steelers selected cornerback Joey Porter Jr. with the 32nd overall pick in the 2023 NFL draft Friday night in Kansas City, Missouri.
Despite receiving multiple offers for the pick, the Steelers opted to draft Porter Jr. rather than trade down out of the spot for more capital.
As the first pick of the second round, Porter Jr. was selected higher than his dad, who was drafted by the Steelers in the third round in 1999.
"You talk about legacies and a son not only making it, but playing for the same franchise — that in itself would be amazing," Joey Porter Sr. told ESPN before this year's draft, when asked about the possibility of the Steelers selecting his son. "You couldn't write this stuff in a storybook. It would be amazing to see if something like that happened."
Though the younger Porter begins his NFL career in the same city as his father, he took his own path to Pittsburgh.
A four-star prospect out of North Allegheny High School, Porter Jr. played at Penn State for four seasons, racking up 113 tackles in 86 career games. He was a full-time starter in his final two seasons and earned first-team All-Big Ten honors in 2022, when he had a career-high 11 pass breakups. His 3.7 opponents' yards per attempt thrown in his direction was tied for fourth best in the FBS.
A press corner, Porter Jr. gives the Steelers a much-needed boost in the secondary after the free agency departure of corner Cam Sutton.
Porter Jr. was born into football, arriving a year into his father's professional career. He grew up around the game, returning to Pittsburgh for high school after his dad retired from a 13-year NFL career as an outside linebacker and joined the Steelers' coaching staff as a defensive assistant in 2014. Because of that, Porter Jr. developed a close relationship with Steelers coach Mike Tomlin's sons, Dino and Mason, through playing basketball together at the Boys and Girls Club.
Listed as the No. 17 overall prospect on ESPN draft analyst Mel Kiper Jr.'s big board and No. 3 in ESPN analyst Matt Miller's cornerback rankings, Porter Jr. landed with the Steelers in the second round after the organization passed on him in the first, instead trading up to No. 14 to select Georgia offensive tackle Broderick Jones.
But with a slow-developing draft market for cornerbacks, Porter Jr. was available when the second day of the draft began.