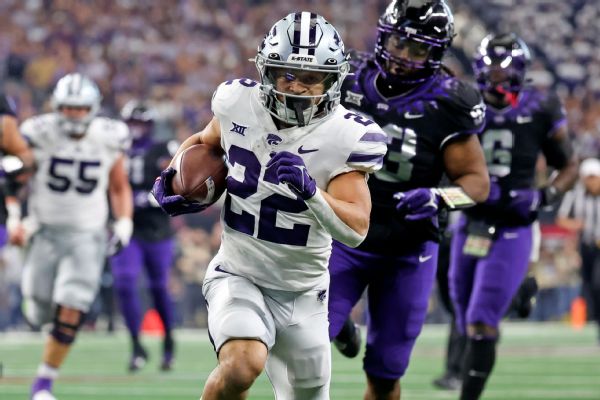 FRISCO, Texas — For a brief moment, Chris Vaughn did not know what was happening when Dallas Cowboys owner and general manager Jerry Jones asked him to turn in the team's card for its sixth-round pick. After all, the picks are now automated.
But when his colleagues stood up around the draft room and Jones symbolically tossed him a napkin as if it were the card, Vaughn realized the team was ready to select his son, Deuce, a running back out of Kansas State, at No. 212 overall on Saturday.
Vaughn, the Cowboys' assistant director of college scouting, was given the privilege of calling Deuce with the news.
"Look here, man, do you want to come to work with me next week?" Vaughn, his voice cracking, asked his son on video from the team's draft room.
"I wouldn't mind that at all," Deuce answered.
Jones has been part of more than 30 drafts as the team's owner and general manager. He has presided over No. 1 overall picks and a number of high-level trades.
"I've never had an experience like that in the draft room. Ever," Jones said.
Said head coach Mike McCarthy, "In 30 years of this league, I've never seen anything like that. That was a very special moment."
Leading into the draft, Vaughn, who has been with the Cowboys since 2017, did not write a report on his son. When the Cowboys discussed him in their meetings, he left. He did not want to influence the direction in any way. Just before the Cowboys were on the clock, Vaughn was starting to head up the team's undrafted free agent process, and he was not in the draft room.
In a side hallway, his son called him and he could tell the emotions of not being selected were starting to affect Deuce. Chris put aside the scout in him and became the father, pumping up his son.
By the time Chris returned to the draft room, Jones, McCarthy, executive vice president Stephen Jones and vice president of player personnel Will McClay had decided Deuce would be the pick, but Jerry Jones was discussing other possibilities with the selection.
"It was like a joke everybody was in on except for me," Chris said.
And the emotions poured out one more time.
"For me, it was one of the coolest things I've ever been involved in," McClay said. "Just to have a guy that we value so much as an employee and the work that he does, and then to have so much positive be said about his son and then to watch the tape and see just how impactful he will be on the field, then have that moment to share that, because it's all about family. When you talk about the Cowboys, you talk about football, you talk everything else, but you talk about family."
Deuce, who was in Austin, Texas, with his mom, sisters and 50-60 other family and friends, was watching the draft, waiting for his chance. He quickly saw the draft room video involving his father.
"Over the past 21 years of my life and to see him react the way that he did, I'm not going to lie," Deuce said. "It was a tearjerker."
Deuce said he never asked his dad what the Cowboys thought about him.
"I wanted it to happen organically," he said. "I wanted everything to fall into place as if it would. And over the past two weeks, the biggest thing we kind of echoed to each other is that I just needed a chance. It didn't matter what round. It didn't matter exactly what pick. I just needed a chance, a foot in the door. For it to be Dallas, oh man, it's unbelievable."
In three years at Kansas State, Deuce ran for 3,604 yards and 34 touchdowns and had 1,280 yards receiving. In 2022, he led the FBS in all-purpose yards with 1,936. That included 133 yards on 22 carries and a touchdown against Alabama in the Sugar Bowl. But at 5-foot-5, 179 pounds, his size was a deterrent for some teams.
"You watch him run through Alabama's defense, breaking ankles and doing things that he did, he'll make a believer out of you in a hurry," Stephen Jones said.
At running back, the Cowboys have Tony Pollard, who was named to the Pro Bowl last year, playing on the franchise tag and coming off a fractured ankle he suffered in the playoff loss to the San Francisco 49ers. They signed Ronald Jones as an unrestricted free agent and also have Malik Davis and Rico Dowdle. Jerry Jones said he would not rule out the potential return of Ezekiel Elliott, who was released by the team in March.
"I think clearly, Deuce can play the normal flow of our offense, first and second down," McCarthy said. "I think stating the obvious as far as the protection component, we've got to work together there, but there's some very distinct situational thoughts and concepts that I have in mind early. Randall Cobb-ish type things I've done in the past. Yeah, we'll definitely have opportunities for him to take advantage of his productivity. I mean he's a dynamic player."
It's something his father has known for some time.
"The ability to make plays in a variety of ways. And again, I want to say that with my evaluator cap on," Chris said. "He can make plays a couple different ways. He's demonstrated that. The thing I would say, you don't have to play him necessarily differently because he is a smaller guy. His biggest runs were inside, downhill runs as opposed to always using him in space. I'm not trying to be the coach here when I say that, but what I'm saying is, he's going to come give everything he's got."
And the phone call is one he won't forget.
"That's the best one I ever made," Chris said, his voice cracking again. "You know, I told somebody he's the hardest worker I know, I just happen to be his dad. It's really refreshing to see that that's what this league is made up of. Of guys that you can't put a measurement on. That's what he's always been. I expect him to be that when he gets his opportunity that he's earned as a player just doing it the right way."