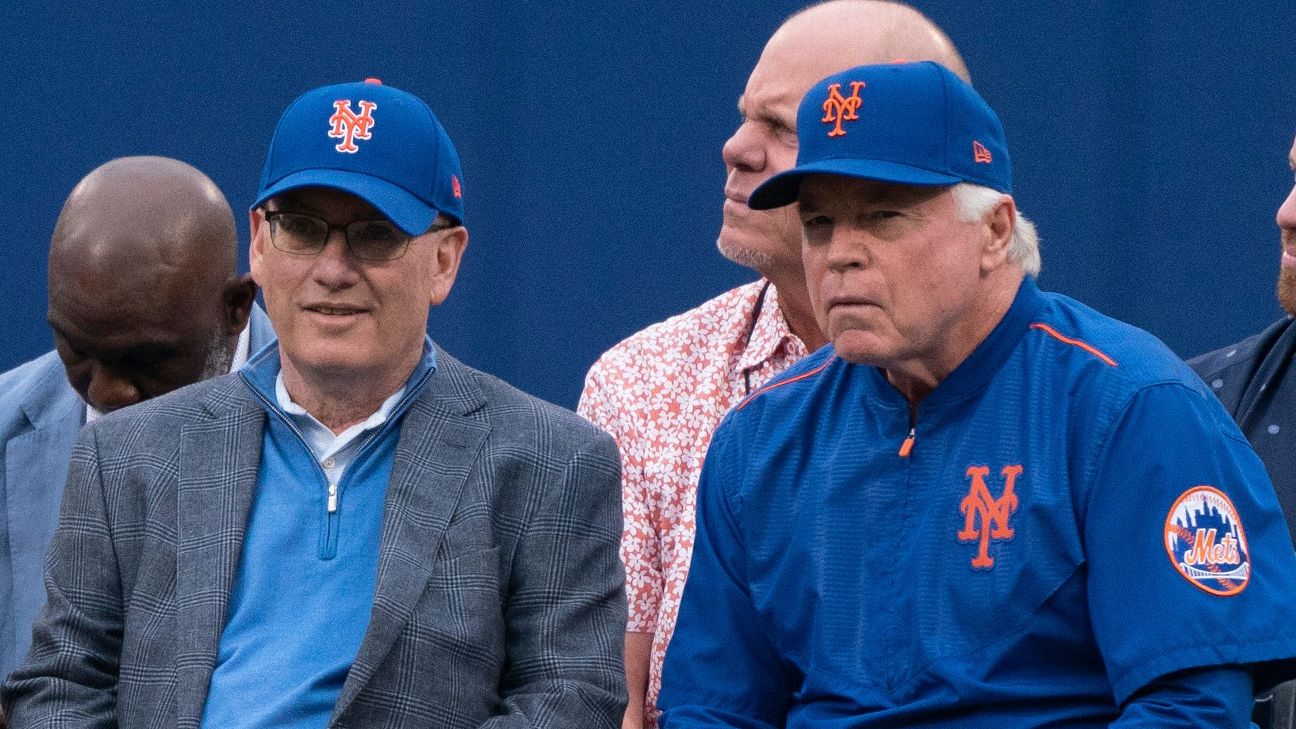 New York Mets owner Steve Cohen said he is "not going to blow up" over his team's poor start to the season and insisted that neither manager Buck Showalter nor general manager Billy Eppler are in danger of being fired.
Cohen, in a wide-ranging interview with the New York Post, admitted he is frustrated with the Mets' struggles and said he thinks the team's biggest problem is its inconsistent pitching staff.
But when asked whether Showalter's or Eppler's jobs were in jeopardy, Cohen said he will remain patient.
"When things get really bad, I'm not going to blow up," Cohen told the Post, which published the interview before the Mets' victory Saturday over the Pittsburgh Pirates. "I don't think that's the proper response. I don't think it solves anything, other than it gives people a one-day story. But it doesn't really solve anything.
"There's plenty of blame to go around from a performance point of view. So blowing up, I'm not sure it solves anything. It would demonstrate, 'Oh, he really cares. He's one of us.' But the reality is it's not going to solve our problems, and I think in some ways it can be demotivating."
The Mets enter Sunday fourth in the National League East with a 31-34 record, 9½ games behind the first-place Atlanta Braves. Saturday's victory in Pittsburgh snapped the Mets' seven-game losing streak, which included a three-game sweep in Atlanta to the rival Braves.
Despite a record payroll estimated at over $340 million, the Mets will be hard-pressed to match their record from 2022, when they went 101-61 in their first season under Showalter and Eppler.
Eppler told the Post on Saturday that he is confident in Showalter, a four-time Manager of the Year who is in his 22nd season as a major league manager. Cohen echoed those sentiments, saying the Mets' problems are "organizational" and that he wants to avoid being "reactionary."
"I think that's the worst thing you can do is to be overly reactionary," Cohen told the Post. "General fan reaction — it's usually, 'I can't believe Steve's not going nuts, fire somebody.' My answer to that is, 'OK, let's say I went nuts. Let's say I fired somebody. Then what?' What does that accomplish? Who are you gonna replace them with? This is the middle of the season. And then if you actually ask people [who are the replacements], they have no answers, other than they're just angry, and I get that.
"I'm frustrated, too. The players are frustrated. The front office is frustrated. We are frustrated. No one expected this. This is really surprising. It doesn't mean that things won't get better. If we can find ways to fix our weaknesses, we'll try."
The Mets' most glaring weakness arguably is their pitching staff, which entered Sunday with a 4.73 ERA — the fifth worst in the majors. Cohen specifically cited the struggles of veteran aces Justin Verlander (4.85 ERA) and Max Scherzer (3.71), who both have battled injuries and inconsistency this season.
"I believe we have veteran pitchers who have performed in the past," Cohen said. "I think they're gonna do better. I think we're seeing signs of it. Verlander went out the other night [Thursday against the Braves] and pitched three innings. The start before he threw 120 pitches. Is one related to the other? Might be, I don't know, it's way above my paygrade.
"Generally he's the type of pitcher and Max is the type of pitcher — I think they are going to be fine. … What is the odds this group of pitchers will pitch this way the entire season? Probably unlikely. That is why there is reason for optimism in a moment where it looks like the wheels have just come off."
Cohen, a New York-based hedge fund manager, purchased the franchise in November 2020 for a record $2.4 billion and has elevated the Mets into one of Major League Baseball's highest-spending franchises over the past three years.
Although he repeatedly stated that he loves and appreciates Mets fans' passion, Cohen also reiterated that he will not shake up the organization to appease "recency bias."
"That's not how I'm going to run this team," he said. "That's not how I'm dealing with my people. And if people don't like it, what can I tell you? I'm gonna do it the way I do it. I don't know who they thought they were getting.
"Just because I spent money doesn't mean a change — I'm gonna run it in my style: thoughtful, involved. And sometimes there are no easy answers. And you have to accept that."