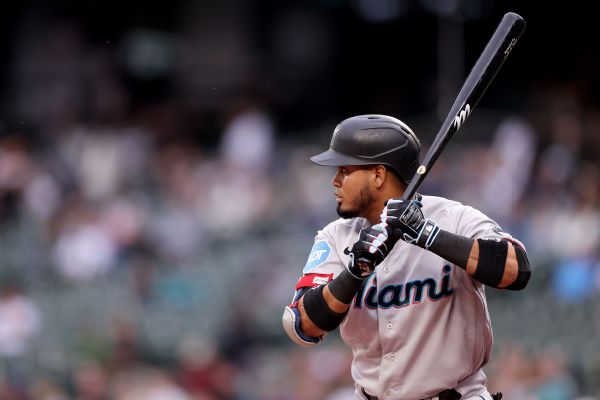 MIAMI — Luis Arraez went 5-for-5 again to raise his batting average to .400 and Jorge Soler homered as the streaking Miami Marlins routed the Toronto Blue Jays 11-0 on Monday night.
Jon Berti had three hits and Jesus Sanchez doubled twice for the Marlins, who won their fifth straight game and finished with 19 hits — their most since getting 21 on June 1 last year in the opener of a doubleheader at Colorado. Miami improved to a season-best 11 games over .500 at 42-31.
"This is fun because we're winning and everybody gets hits," Arraez said. "I'm excited for this team. When we get to the clubhouse, we are a family."
It was the second time in his past three games that Arraez went 5-for-5, following an 0-for-15 slide that dropped his average to .378. According to Elias Sports Bureau, he became the fourth major leaguer since 1900 to have three five-hit games in a calendar month, joining three Hall of Famers: George Sisler (August 1921), Ty Cobb (July 1922) and Dave Winfield (June 1984).
Arraez has 11 days to try to become the first player since 1900 with four five-hit games in a month, which would match the most in a season in that span, joining Cobb (1922), Stan Musial (1948), Tony Gwynn (1993) and Ichiro Suzuki (2004).
"Anytime you're mentioned with Ty Cobb, that's pretty special," Marlins manager Skip Schumaker said. "The way he's doing it, up the middle, when we need it. A blowout game or non-blowout game. It's special."
Arraez's three five-hit games are already the most in a single season in Marlins history. He has 102 hits in 67 games played, the second-fastest Marlins player to 100. Dee Strange-Gordon reached the century mark in 65 games in 2015.
Arraez's fifth single, a line drive to left field with the bases loaded, scored two and highlighted a five-run seventh. The crowd of 12,226 gave Arraez a standing ovation before the at-bat and chanted "Louie! Louie! Louie!" and "MVP! MVP! MVP!" once he reached first base.
"My hair stood up. I had to step away and take a deep breath," Arraez said. "I thank the fans who have come to support us and hopefully they will continue to do so."
No big league player has batted .400 for a full season since Ted Williams hit .406 for the Boston Red Sox in 1941.
Bo Bichette had two hits for the Blue Jays, shut out for the first time this season. Bichette also reached 100 hits with his leadoff single in the ninth. He and Arraez are the only players in MLB with 100 hits this season.
Soler's two-run homer and Garrett Cooper's RBI single in the third put Miami ahead 3-0. Soler drove a breaking pitch from starter Jose Berrios to left-center for his 21st homer.
The Marlins padded their lead on Soler's sacrifice fly and Sanchez's RBI groundout in the fourth.
With a huge lead, Schumaker pinch-hit for Arraez with rookie Jacob Amaya in the eighth. Amaya singled and drove in Miami's final run.
Starting pitcher Bryan Hoeing threw four scoreless innings in a bullpen game for Miami. Hoeing allowed three hits and struck out a career-high five.
Huascar Brazoban (1-1) followed and got the next six outs. He gave up one single.
Berrios (7-5) was lifted after the fourth. The right-hander permitted five runs and eight hits in his shortest outing of the season. He walked one and struck out four.
The Associated Press contributed to this report.