When Lionel Messi played his first World Cup final in 2014, there were tickets changing hands on the morning of the game for as "little" as $680.
It was a fascinating and unique kind of black market. With the tournament being held in Brazil, thousands of Argentina fans flooded over the border once their team reached the final (which they would ultimately lose to Germany, 1-0).
Initially, even the nosebleed options were going for above $5,000, such is the draw of the soccer's grandest event. By gameday, things had changed, as had the price.
The number of visiting Argentinians willing or able to pay such inflated figures had dried up. Supply and demand got shifted when thousands of Brazil supporters, demoralized after their team lost the semifinal to Germany, 7-1, looked to offload their seats for a profit.
Furthermore, concerns over fake tickets led to some caution among even those with the cash available to buy the chance to see a piece of history. All these things affected the ebb and flow of the price point.
I know, because I was offered a ticket on the way to the Maracana Stadium, and a friend conversant with the authentication process confirmed it was legitimate. Fortunately, for the sake of my bank balance, I had a media credential and could save my hard-earned reais.
So yeah, $680 could get you in to the World Cup final.
On Sunday night, if you decided on a whim that you wanted to watch Messi play in a regular season Major League Soccer game in Los Angeles, it would have set you back around $700.
An MLS game … at World Cup final prices. Wild.
It has been about six weeks since Messi made his debut for Inter Miami and his appearances, in first the Leagues Cup and now in typical MLS action, have turned into cult viewing. Wherever he shows up around the league, the cost of entry spikes to extraordinary levels.
[Lionel Messi stats tracker: Every goal, assist and trophy for Inter Miami]
The $700 ticket for Inter Miami's 3-1 convincing victory over defending MLS Cup champion LAFC was in a section of BMO Stadium – in downtown L.A. – considered to be the least desirable. Over in the fancier seats, near where the likes of Prince Harry, Leonardo Di Caprio, Selena Gomez Tobey Maguire, Tom Holland, Tyga and many more celebs were chilling, options went all the way up to $90,000, according to the LA Times.
Just saying, you have to be performing at a special level if TWO Spider-men come out to see you play.
As ever, the fans got their money's worth. Messi is arguably the greatest ever for a reason and has been on an absolute tear since arriving in the States, with 11 goals in 11 games. This time it was a pair of clever assists that did the trick in setting up another victory, as Miami moved to within eight points of a postseason playoff spot, while having played at least two fewer games than most of their rivals.
Believe it or not, there are those who have found a way to twist Messi's magical streak into some kind of a negative, stating that somehow this is bad for MLS. The theory goes that the fact he is making defenses look silly supposedly casts an embarrassing shadow over the quality of the league.
Nonsense. Believe that if you will, but at the very least take a look at precedent first. Messi has been making defenders look silly for his entire career. He has been producing and scoring goals in absurd quantities for all of that time, too.
This isn't some has-been coming to America and suddenly finding soccer salvation. It's just Messi being Messi.
[Lionel Messi has 2 assists in front of star-studded crowd as Inter Miami beats LAFC 3-1]
There was a season in Spain where he scored 50 goals for Barcelona in La Liga, by common consensus either the best league in the world or a close runner-up to the English Premier League, while racking up 73 in all competitions. During his time there, he scored a whopping 672 goals in 778 games.
His Inter Miami average of a goal per game isn't some outlier; it's basically his standard output. When leading Argentina to World Cup glory last December in Qatar, he scored seven goals – in seven games.
"We've seen this from him his entire career," LAFC head coach Steve Cherundolo told reporters. "It's nothing that none of us should have expected. He is the best player in the world, what did you think he was going to do when he came here?"
Martin Rogers is a columnist for FOX Sports and the author of the FOX Sports Insider newsletter. Follow him on Twitter @MRogersFOX and subscribe to the daily newsletter.
FOLLOW
Follow your favorites to personalize your FOX Sports experience
---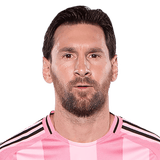 Get more from Lionel Messi Follow your favorites to get information about games, news and more
---