Youth isn't a bad thing for the Detroit Lions.
In fact, it might just be their superpower.
Equipped with a coaching staff full of former players, the Lions were able to get an incredible amount of production from first and second-year players in 2022. 
Second-overall pick Aidan Hutchinson tallied 9.5 sacks, leading the Lions' pass rush as a rookie. Rookie sixth-round pick James Houston ranked second on the team with eight sacks despite not even being active until Week 10. Safety Kerby Joseph picked off Packers quarterback Aaron Rodgers not once, not twice, but three times in two games against Green Bay.
Maybe we all should have thought of that before questioning their 2023 draft class.
General manager Brad Holmes took a lot of heat for selecting some of his top players where he did. A running back at No. 12? An inside linebacker at No. 18? The saving grace of the draft class was seen as scooping up Brian Branch in the second round when he fell.
One game into the NFL season, a game in which the Lions shocked the NFL world by beating the defending-champion Kansas City Chiefs at Arrowhead, and those questions have all but been silenced.
Branch picked off Chiefs quarterback Patrick Mahomes in the third quarter as Kansas City was driving, trying to add to their 14-7 lead. Instead, the Lions tied it at 14-all after Branch took that interception to the house. Yes, it was on a deflection, but if you think it was an accident Branch was there to snatch the pass out of the air, you my friend, don't know ball. 
It came on third down, just two plays after that aforementioned first-round inside linebacker, Jack Campbell, knocked the ball out of Kansas City wide receiver Kadarius Toney's hands. And none of this came as a surprise to the coaches or players.
"You pick the guy that you love, that you feel like that fits what you do," said Glenn of his draft strategy. "And Jack [Campbell] does that.
He's a big, physical man that can command defense and he has a chance to be in this league for 10 to 12 years as a true Mike linebacker, so we're happy we have that player. We feel like we do have a player that's going to be able to command this defense, not just now but in the future. And he embodies everything that Detroit's about — gritty, physical, tough and loves football."
Detroit views Campbell as a cornerstone defender who will be on their team for years to come. And if you view it through that lens, selecting at No. 18 overall suddenly makes a lot of sense.
Detroit is building a roster with that end goal. They want a team made up of home-grown talent. They want their players to be with them for years. They want a chance to start from scratch with a player. It's why youth is desirable in Detroit.
"We do have a good amount of young players," said Glenn. "And that's okay. I mean, we get a chance to mold them exactly how we want to mold them. And those guys do a really good job of understanding what we're trying to do."
Lions coaches, and Glenn himself, aren't asking them to do something drastically different than what they did in college, either. They draft players to fit their scheme. And the scheme is made up of an amalgamation of teams across all levels of football. 
"We go out and we visit other coaches — and I'm not just talking about NFL coaches," said Glenn. "College coaches, retired coaches — and we just collect information because we're in the business of collecting information. And man, there are so many new things that are out there as far as playing this game for us. The evolution of the game. Different things work. I think that's one thing that offensive coaches do a really good job of: going into the college ranks and bringing that into our league. And I think we as a defensive staff should do that more. Just going out and visiting other coaches and seeing what works and what doesn't work, how you defend certain offenses and we do that quite a bit."
It results in a scheme that is "relatable" to Lions players. And because it's relatable, it's easily internalized. But it evolves, too. It evolves year to year and evolves even in games, which is why that internalization and understanding is so important.
"I believe in making the quarterback make post-snap reads," said Glenn. "There's going to be a lot of what we do that is gonna look the same. But it changes within the snap of the ball so they get a really good understanding of that."
Glenn's staff helps tremendously in that understanding, as well. He has a process for how he installs a defense each year. First, Glenn gives his defensive coaches an overall vision of his scheme. Coaches take notes, they ask questions and make sure they understand it. Not satisfied with his coaches being able to regurgitate the calls, Glenn then goes through every individual call within the system and explains his reasoning behind each and how they all complement each other.
"Even though this is a scheme that I have a vision of, the coaches do a really good job with their input on kind of tweaking it to where it fits everybody," said Glenn.
Glenn then personally explains the scheme to his players. They hear it from him first. Then it's up to his staff again to teach every minute detail. His players may be young — the Detroit defense has an average age of 25.6 years old — but they are well-taught and well-coached. Down to the details.
Winning the NFL season opener in primetime in one of the toughest places to play wasn't a surprise. Not to them. 
[Do you want more great stories delivered right to you? Here's how you can create or log in to your FOX Sports account, follow your favorite leagues, teams and players and receive a personalized newsletter in your inbox daily.]
"Ain't an upset when you expect to win," one Lions assistant texted me before adding, "LFG!!!"
They have a belief in each other from the top down that insulates them from any outside noise. Widely considered the favorites to win the NFC North this season (I know, the Lions, right?), you've heard but a peep about those expectations from anyone associated with the team publicly. But the Lions have one of the most fun locker rooms you'll ever be in. 
It's been that way since head coach Dan Campbell arrived. It was that way even in the beginning of last season as the team was losing. It's filled with excitement and energy. Laughs, too. It kind of makes you feel like a kid again.
So it shouldn't be a surprise the Lions get the most out of their players from the jump.
Youth is the Lions' superpower. It's one that could just end up taking them to the Super Bowl. 
Carmen Vitali covers the NFC North for FOX Sports. Carmen had previous stops with The Draft Network and the Tampa Bay Buccaneers. She spent six seasons with the Bucs, including 2020, which added the title of Super Bowl Champion (and boat-parade participant) to her résumé. You can follow Carmen on Twitter at @CarmieV.
---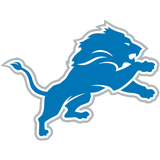 Get more from Detroit Lions Follow your favorites to get information about games, news and more
---