By Nelda Briones
LFN
La Feria News had a surprise visitor on Friday September 8th. Meet Paulo Bookman Kyyakh, he's a foreign exchange university student from Portugal. He was born in Portugal, but his parents are immigrants from the Ukraine. He's been studying marketing at Coventry University in London and is going to attend the University of East Anglia in Norwich, for his master's degree. He was here recently in La Feria working on his summer exchange program as an educational consultant for Southwestern Advantage.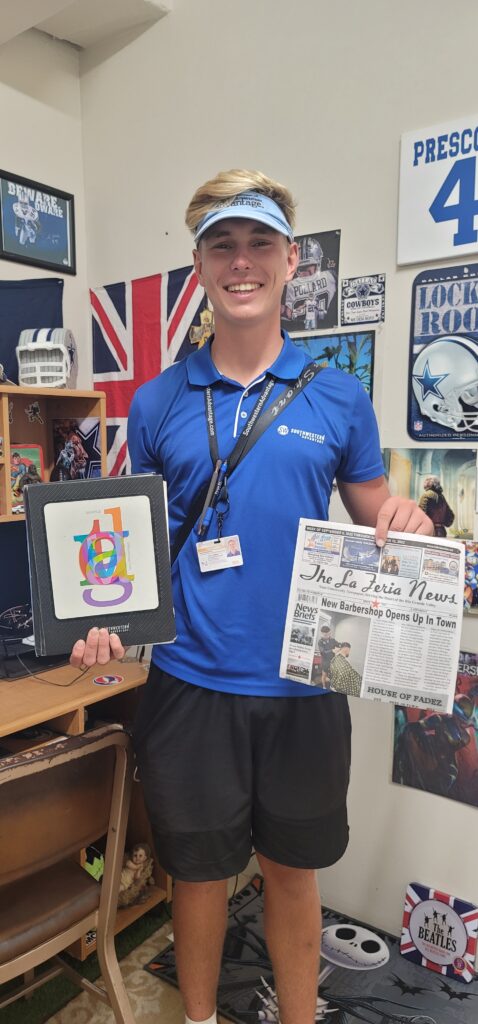 The company is based out of Nashville, TN and hires American and European University Students to work as independent contractors. They go door to door and sell educational resources for use from pre-school all the way to college prep. They are books and apps that work together as a system. Paulo first heard of the program from his college friend who did the program last year and heard of how the program helps with character and the skills needed that are necessary for life. He thought the program would be a good fit for him. Paulo's goals are to help as much families as possible which is the main idea of the program, and this is how he gets to pay for his college.
He started his journey here in the United States about three months ago where they sent him to Corpus Christi. Paulo mentioned that he needed to get used to the weather down here. "It felt like they sent me to the hottest place in the world." He mentioned, At the time of our interview the weather in London was 76 degrees. He also worked in Robstown, Harlingen and eventually ended up in La Feria. Paulo says that he really enjoys the people here in South Texas and is in love with the food down here. Good luck to Paulo in all his endeavors.
Related