TAMPA, Fla. — Between practices, workouts and meetings, there is inevitable downtime in NFL locker rooms. Teams will put up miniature basketball hoops, ping-pong or pool tables, even suction-cup dartboards — anything to feed players' competitive fix during the long days of game prep.
The Tampa Bay Buccaneers have found a surprising twist on that this season. There are two boards on small tables between couches in the middle of Tampa's locker room. Players will literally shout "I got next!" from their lockers as a game is played. At the conclusion of one recent match, a Bucs player stood up in frustration, shook hands with a teammate and said, "I've got to work on my endgame."
They're playing chess.
Enthusiastically.
"I just love the fact that a bunch of the guys like to play," punter Jake Camarda said. "It's just a fun, strategic game to play. It makes you think a lot, and we enjoy it. It's a good battle. We play a lot. The boards are usually taken."
There is metaphorical chess all over the NFL — a battle of two veteran coordinators is touted as a chess match, a versatile player is a chess piece, a deadlocked defensive struggle is a stalemate. But this is real chess, ranging from serious "mate in five moves" experts to novices who didn't know how each piece moved until this summer.
"You wouldn't think chess would be that popular, but when we get out of practice and we have a little downtime to eat and hang out, that chess table is full," said linebacker J.J. Russell, who only picked up the game this summer. "When you're playing, you're thinking two moves ahead. Chess tells you who you are in a sense: Are you an attacker? Are you passive? You can definitely connect it to the game of football. It's all the same thing."
Is a linebacker more aggressive in football or chess?
"I'm more aggressive in football," Russell admitted. "Every time I'm in an aggressive state in chess, I'm losing some important pieces. I'm trying to learn to be aggressive and not lose my pieces."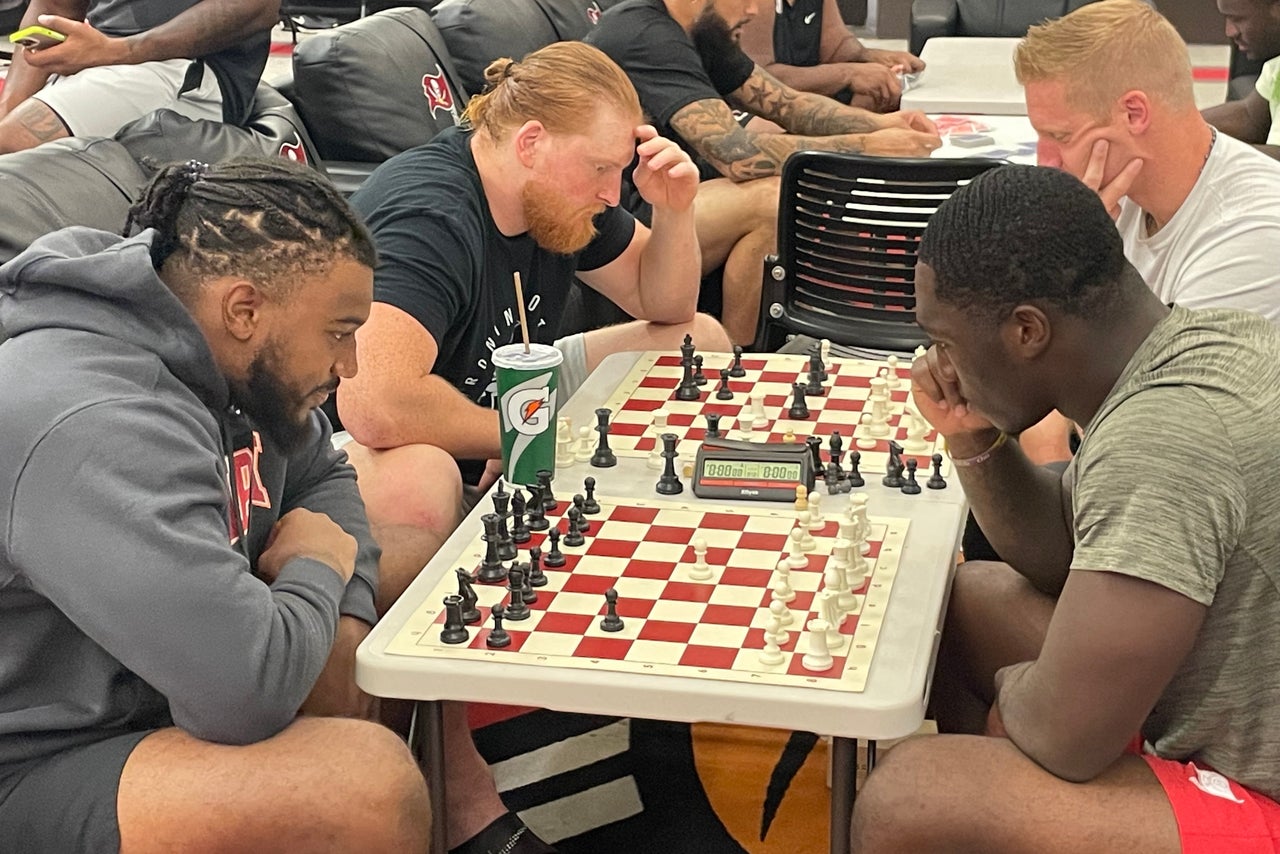 Like so many other Bucs players, linebackers Cam Gill and K.J. Britt (left to right at near table) and tight end Ko Kieft and long snapper Zach Triner (left to right at far table) are hooked on chess. (Photo by Greg Auman)
Duke Preston, 41, is the Bucs' vice president of player engagement. He's also a former Buffalo Bills offensive lineman, starting 20 games between 2005 and 2008. He has played chess and now plays with his sons. "I love it because they sit there and they don't talk," he joked. "It's quiet. They're not screaming and throwing remote controls at each other. They're doing something productive." 
Preston thought the game might be something that could help the Bucs. Players were already playing here and there, but this summer, as the team wrapped up workouts ahead of training camp, Preston brought in Ashley Lynn Priore, a chess instructor from Pittsburgh who has worked with everyone from politicians to colleges and businesses, illustrating how chess strategy can apply to much more than the game.
"She does a lot of cool things with taking chess and making it a way of life, a leadership perspective. We did a little bit of that, but more than anything, it's a cool competitive outlet for our guys," Preston said. "We're big proponents of critical thinking and problem-solving, so guys playing chess in the locker room, competing and developing themselves mentally, it's a cool kind of thing."
Priore had never worked with an NFL team when she met with the Bucs in June, but she has since worked with the Browns and has sessions set up with the Colts and Steelers. She wants every NFL team to learn chess, but that movement began in Tampa.
"I was so impressed with the Bucs players," she said. "It was really exciting to see these players come up with so many connections between the game of chess and football. Not a lot of people talk about those connections enough, and it's there."
Once players understand the game, they see football on the chessboard and vice versa. They can't all move with the confidence and power of a queen, but they might identify with the range of a bishop, the stealthy multidirectional attack of a knight, even the slow persistence of pawns, which protect each other and can take down any piece on the board, or become as powerful as any piece. The game teaches pattern recognition, anticipation, deception and misdirection — all things that can help in football.
Preston said he never saw a chessboard in a locker room when he played, but he has since seen the game take off across the league. Quarterbacks like the Eagles' Jalen Hurts and the Bengals' Joe Burrow play the game, and for the past two years, a tournament called "Blitz Champs" has pitted current and former players like Cardinals great Larry Fitzgerald against each other, raising more than $100,000 for charity.
The Bucs supplied the initial boards — labeled with coordinates for algebraic notation — but players have brought in their own, along with the chess clocks they now use for speed games.
"Sometimes we play clock, sometimes we don't," Camarda said. "We messed around last week and played some one-minute games. We've played three-minute games. Usually no more than five. … Since it's been in here, I can't tell you how many guys have the Chess.com app, so we play all the time."
Long snapper Zach Triner played as a kid, and like many people got back into chess watching the TV show "Queen's Gambit" a few years back. He said what he likes is that players from the entire team are playing — offense, defense, veterans, rookies — so there's an interactive aspect to playing that makes the team a little closer just by playing.
"Every position's playing, and there's been some really good relationships over the chessboard," Triner said. "[Coach Todd] Bowles is really big on the chemistry, and I think this is surprisingly one of the things that's done that for us. It doesn't matter who you are, practice squad or starter, everyone's over there playing."
Bucs center Robert Hainsey, training this summer in Arizona, had played since childhood but got "really into it" during his downtime between workouts, playing on his phone and even watching YouTube videos of gambits and defenses. So he was pleasantly surprised to see the game catch on in the locker room, calling it "a big camaraderie thing during camp that fits the group really well."
Priore wasn't sure what to expect from teaching an NFL team how to play chess, but she's thrilled to see the participation level continuing to grow, even as the regular season unfolds.
"It's a really great team-building exercise, and I think what sets them apart from the rest is they're fully dedicated to this," she said. "They're not being told to do it. I see them posting on their Instagram stories and it makes me feel excited, because for the longest time, chess wasn't the in game, the cool game. Kids watch these guys play, and I have students who say, 'These guys actually play chess!' and it makes them want to play even more."
The undisputed chess king of the Bucs' locker room is backup quarterback John Wolford. The Wake Forest graduate learned the game at age 5 from his grandfather, and he has played ever since. He has a player account at Chess.com, where he's played nearly 3,000 games — often "bullet chess," played in mere minutes — though only a few in the past two years.
Camarda calls Wolford "incredibly good." Rookie tight end Payne Durham said Wolford "runs the locker room." So among his teammates, Wolford has good reason to have confidence.
"As humbly as I can say it, I don't think there's anyone that can beat me in the room," he says. "Payne beat me one time, because I lost my queen, but that was a blunder."
When the Bucs brought in Priore to do the chess presentation to the team, he played her, and he won.
"I think she was a little surprised I was good and I caught her off-guard," he explained.
The biggest obstacle to the Bucs holding a single-elimination chess tournament — 16 players, seeds and everything — is a unanimous appreciation for Wolford's dominance. "He single-handedly killed the tournament," Preston said. An alternative was suggested, with Wolford getting the ultimate bye and getting to play the winner from the rest of the locker room.
"That may come to fruition," Wolford said. "It'd be kind of fun."
Durham, who played chess with roommates at Purdue, said he'll use the game to get his day started. "First thing in the morning, I'll go hop on the board and really wake the brain up," he explained. "You have to learn how to analyze what your opponent is trying to do, to see their attacks coming before they give them away. That ties in with football, with life, just looking ahead and seeing all of that stuff."
Wolford said everyone can learn from the game, whether they apply the analytical skills to football or not.
"It's great for your brain," Wolford said. "There's a lot of intricacies to chess. The more guys play, it's probably good for them, much better than messing around on your phone. I think it's good for the team. It's great for strategy, and there's probably some second- and third-order positive effects for the team."
Some of the Bucs' most active chess players are the newest ones, learning the game from Priore this summer and from teammates since then, liking the ability to improve with steady practice.
"I love things that challenge me," rookie safety Kaevon Merriweather said. "You have some people who are like, 'You've got to think three-four-five moves ahead.' I'm still just looking at the next move. I think Payne beat me in like five moves. But it's definitely fun, and it's a nice competition for us."
[Want great stories delivered right to your inbox? Create or log in to your FOX Sports account, follow leagues, teams and players to receive a personalized newsletter daily.]
Linebacker K.J. Britt learned from Wolford this summer, and in a matter of months, it's what he does when he has a minute to spare.
"We play every day," Britt said. "Whenever we get some free time, you can clear your mind on something that isn't football-related, and we'll take advantage of that. I play wherever. I've got my own chessboard, I've got the app. Whenever I'm bored, I play."
Britt and Russell — K.J. and J.J. in chess circles — have adjoining lockers close to the chessboards, so they're watching when they're not playing, something entirely new for them, but now part of their daily routine.
"I never played as a kid or anything, never knew anything about it," Russell said. "I was watching [teammates] play, watching them play, and I asked Jake to teach me some moves. He had me download it on my phone, and once I did that, I was hooked. Literally, all I do is play. If I've got a little free time at the house, I'm playing chess. 
"I'll try to learn new moves so I can come back in here and win."
Greg Auman is FOX Sports' NFC South reporter, covering the Buccaneers, Falcons, Panthers and Saints. He is in his 10th season covering the Bucs and the NFL full-time, having spent time at the Tampa Bay Times and The Athletic. You can follow him on Twitter at @gregauman.
---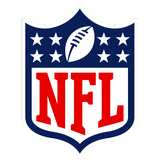 Get more from National Football League Follow your favorites to get information about games, news and more
---