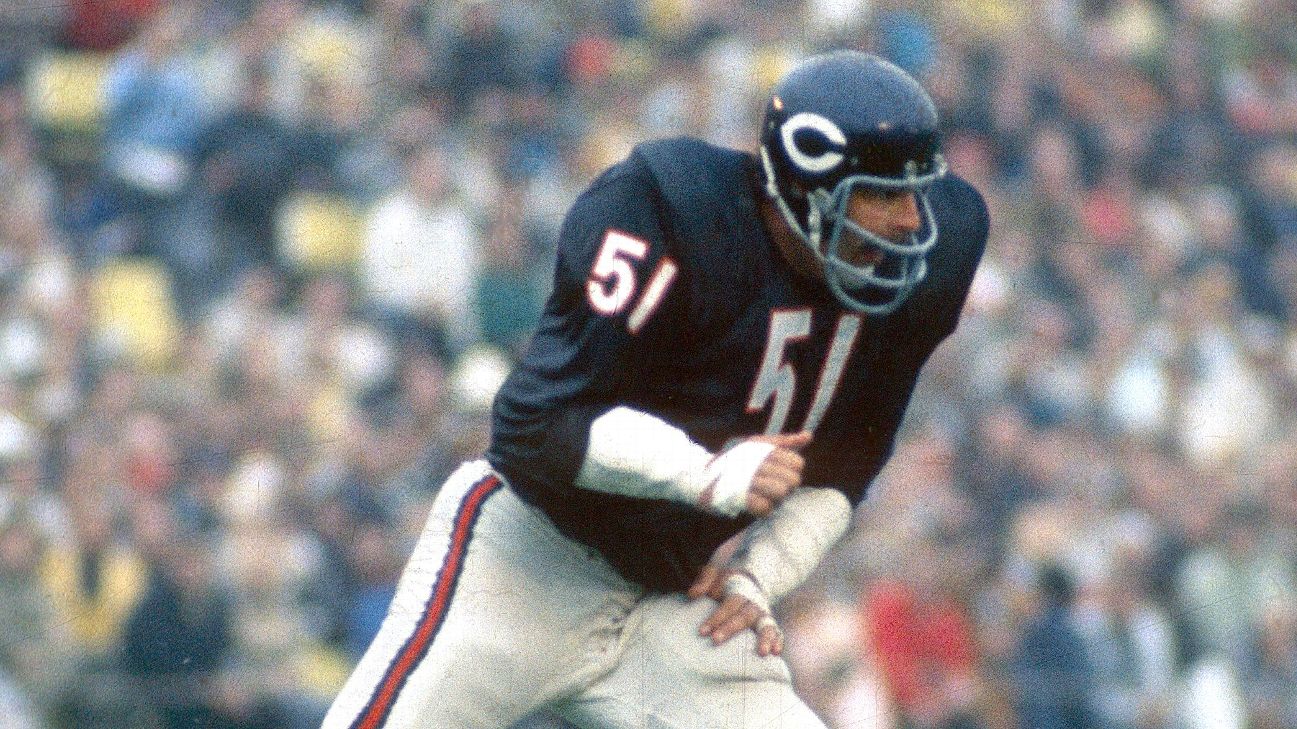 Dick Butkus, arguably the fiercest Monster of the Midway, has died at age 80, the Chicago Bears announced Thursday.
Butkus became a Bears legend and Pro Football Hall of Famer in his nine-year career, which started in 1965. The middle linebacker was a vicious tackler whose intimidating presence put some players on their heels before the ball was even snapped.
In a statement released through the Bears, Butkus' family said he "died peacefully in his sleep overnight" at his home in Malibu, California.
"Dick was the ultimate Bear, and one of the greatest players in NFL history," team chairman George McCaskey said in a statement. "He was Chicago's son. He exuded what our great city is about and, not coincidentally, what George Halas looks for in a player: toughness, smarts, instincts, passion and leadership.
"He refused to accept anything less than the best from himself, or from his teammates. … His contributions to the game he loved will live forever and we are grateful he was able to be at our home opener this year to be celebrated one last time by his many fans."
Dick Butkus was a legend who embodied what it means to be a Chicago Bear. Our hearts go out to his family and friends. pic.twitter.com/8UEVuuZLwi

— Chicago Bears (@ChicagoBears) October 5, 2023
The Bears took on the Commanders on Thursday night in Landover, Maryland, and a moment of silence for Butkus was played before kickoff.
Hall of Fame defensive end Deacon Jones once called Butkus a "maniac" and "well-conditioned animal." Butkus appeared to want to send a message with every tackle.
"I want to just let 'em know that they've been hit, and when they get up, they don't have to look to see who it was that hit 'em," Butkus once told NFL Films. "It shouldn't be any puzzle. When they come to, they got to say, 'It must've been Butkus that got me.'"
In a game against the rival Green Bay Packers during the 1970 season, Butkus and teammate Willie Holman hit quarterback Bart Starr so hard Starr lost his helmet and began walking toward the wrong bench.
Said the Chicago Tribune: "[Starr] looked like Oscar Bonavena after Cassius Clay [Muhammad Ali] had finished with him."
He made the Pro Bowl in eight of his nine seasons, but a chronic knee injury abruptly ended his career in 1974 at age 31.
"Dick Butkus was a fierce and passionate competitor who helped define the linebacker position as one of the NFL's all-time greats," NFL commissioner Roger Goodell said in a statement Thursday. "Dick's intuition, toughness and athleticism made him the model linebacker whose name will forever be linked to the position and the Chicago Bears.
"… We send our deepest condolences to the Butkus family, the Bears organization and the many fans and people he impacted throughout his life."
Butkus finished his career with 1,020 tackles and 22 interceptions. He was named first team All-Pro five times, won the George Halas Award in 1974 and was elected to the Pro Football Hall of Fame in his first year of eligibility in 1979.
He also was named to the NFL's all-decade teams in the 1960s and 1970s and is a member of the league's 75th and 100th anniversary all-time teams.
Butkus spent his entire football career in Illinois. Born on Dec. 9, 1942, as the youngest of eight children, he grew up on the city's South Side as a fan of the Chicago Cardinals, the Bears' crosstown rivals. He played high school football for Chicago Vocational High School, earning a high school player of the year award as a junior.
He went on to compete in college at Illinois, where he played both center and linebacker. He helped the Fighting Illini to an 8-1-1 record and Rose Bowl victory in 1963. In his senior season, he made the All-America team and finished third in Heisman Trophy voting.
That led to Butkus being selected by the Bears with the third overall pick in the 1965 NFL draft. He had to fill the big shoes of Hall of Fame linebacker Bill George, but Butkus quickly showed he was up to the task. He set career highs with five interceptions and seven fumble recoveries during his rookie season.
Butkus would hit runners high, wrap them up and drive them to the ground like a rag doll. Sports Illustrated once called him "The Most Feared Man in the Game."
When the Detroit Lions unveiled an I-formation against the Bears at old Tigers Stadium, Butkus knocked every member of the "I" — the center, quarterback, fullback and halfback — out of the game.
Said teammate Ed O'Bradovich: "Just to hit people wasn't good enough. He loved to crush people."
A legend of the game & part of what makes the NFL's oldest rivalry so special.

Sending our condolences to the family & friends of Dick Butkus & the entire @ChicagoBears organization 🙏 pic.twitter.com/dU7h8TtsWi

— Green Bay Packers (@packers) October 5, 2023
"I wouldn't ever go out to hurt anybody deliberately," Butkus once replied tongue-in-cheek when asked about his on-field reputation. "Unless it was, you know, important… like a league game or something."
Butkus played for only two winning teams with the Bears, however, and never made the playoffs. He came on during the end of the George Halas era, just missing the 1963 championship season. In his final season, the Bears went 3-11.
After he retired, Butkus sued the Bears for $1.6 million, contending he was provided inadequate medical care and owed the four years of salary remaining on his contract. The lawsuit was settled for $600,000, but Butkus and Halas didn't speak for five years.
That divide healed, however, and he became a staunch public supporter of the franchise. A year ago, he even took over the team's social media account for an evening, thrilling fans.
Through the Butkus Foundation, he helped establish a program at a Southern California hospital to encourage early screenings to detect heart disease. He promoted a campaign to encourage high school athletes to train and eat well and avoid performance-enhancing drugs.
The foundation oversees the Butkus Award, established in 1985 to honor college football's best linebacker. It was expanded in 2008 to include pros and high school players.
"Dick had a gruff manner, and maybe that kept some people from approaching him, but he actually had a soft touch," McCaskey, who is Halas' grandson, said in his statement. "His legacy and philanthropy included a mission of ridding performance enhancing drugs from sports and promoting heart health."
Many people knew Butkus more for his appearances in films — such as "The Longest Yard" in 1974 — and on television ("My Two Dads" and "Hang Time") after his playing days. He became a well-known pitchman in commercials. His Miller Lite commercials with Bubba Smith, in which they played off their menacing reputations, were especially well-known.
Butkus also was a sports broadcaster, even serving as a color analyst on Bears games.
The Pro Football Hall of Fame lowered its flags to half-staff in Butkus' honor.
"Playing in an era when middle linebacker became one of the game's glamour positions — and several of Dick's contemporaries also would end up in the Pro Football Hall of Fame — his name most often was cited first as the epitome of what it took to excel at the highest level," Hall of Fame president Jim Porter said in a statement.
Butkus is survived by his wife, Helen, and children Ricky, Matt and Nikki. Nephew Luke Butkus has coached in college and the NFL, including time with the Bears.
The Associated Press contributed to this report.