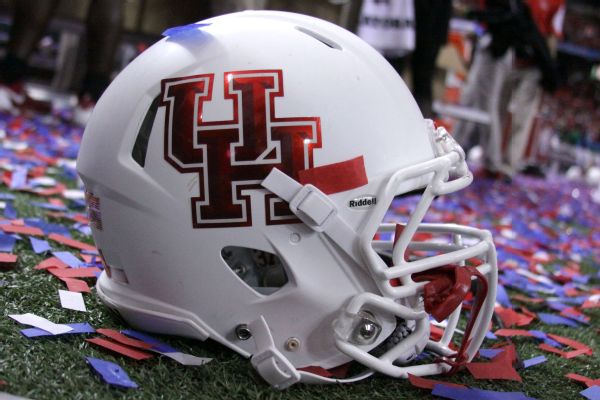 HOUSTON — Donovan Smith threw a 49-yard touchdown pass that was caught by Stephon Johnson as time expired to give Houston a thrilling 41-39 win over West Virginia on Thursday night.
Smith finished 21-of-27 for 253 yards and four touchdowns. He threw a Hail Mary from midfield, the ball was tipped at the goal line and Johnson caught it to end the game.
"We practiced that, and we always have a guy who is ready for the tip," Smith said. "We just executed that."
Smith, who completed his final 16 passes, also ran for a touchdown as Houston (3-3, 1-2 Big 12) earned its first Big 12 win.
"Donovan Smith came alive at the end of the second quarter and had a great drive for a touchdown and then a great second half," Houston coach Dana Holgorsen said. "The kid is turning into a really good player."
Holgorsen described the play as "incredible" and Smith's throw as "unbelievable."
"We played all four quarters," Holgorsen said. "I don't know how that happened at the end. I guess the football gods were on our side today. We'll take it. It's good to get that first Big 12 win. … I'm just proud of that group in there for hanging in there. Donovan Smith and Boogie Johnson, I've never been a part of that."
Johnson caught four passes for 96 yards and two scores, and Stacy Sneed rushed for 78 yards on seven carries.
"It wasn't really planned to be tipped to me," Johnson said of the final play. "It just happened like that, and I made a play on that. I'm just thankful we were able to pull out the win."
Garrett Greene threw for 391 yards and two touchdowns. Greene, who was 20-of-38 passing, also rushed for 47 yards and two touchdowns for West Virginia (4-2, 2-1). The loss snapped West Virginia's four-game win streak.
"We didn't lose the game on the last play of the game," West Virginia coach Neal Brown said. "We had multiple chances to win the game, but we didn't do it. I'm not very pleased with how we played in two out of three phases. Defensively and on special teams, we did not play good enough."
Devin Carter caught five passes for 116 yards. West Virginia outgained Houston 546-393 total yards.
Trailing 35-24, West Virginia cut the lead to three on an 8-yard touchdown run and a 2-point conversion pass to Traylon Ray. After Houston was forced to punt, Greene found Hudson Clement for a 50-yard touchdown pass on fourth-and-10 to give the Mountaineers a four-point lead with 12 seconds left.
The teams combined to score 42 fourth-quarter points.
THE TAKEAWAY
West Virginia: The Mountaineers, who entered ranked 11th nationally with nearly 33 minutes per game, owned time of possession, holding on to the ball 37 minutes. … West Virginia was able to keep drives going, finishing 13-of-19 on third downs. … The Mountaineers, who entered averaging 3.6 penalties per game, were whistled for eight penalties for 84 yards. They had a crucial unsportsmanlike penalty after Clement's touchdown that allowed Houston to get the ball near midfield.
Brown said the Mountaineers lost the game because they were not a disciplined team.
"The celebration penalty after the last touchdown is kind of a microcosm to me of the game," Brown said. "We don't get that celebration penalty, which is completely asinine for us to take our helmets off. … That gave them an opportunity to get into scoring position."
Houston: The Cougars' offense struggled to stay on the field, converting 3-of-9 third downs. … Houston scored a second half touchdown for the first time in conference play after not scoring in the second half against TCU or Texas Tech in their first two conference games. … Houston scored on four of their six second-half drives, and Smith did not have an incompletion in the second half.