Is the NFL in a golden age of talent at the wide receiver position?
FOX Sports NFL analyst Bucky Brooks thinks so. In a recent article, Brooks wrote that the current group of top NFL receivers are the most talented in league history, thanks in part to the amount of skill development they receive beforehand.
Brooks argues that development allows players such as Puka Nacua, a fifth-round rookie, to become one of the NFL's best pass-catchers so far this season, not to mention the talent of top-end players like Justin Jefferson, Ja'Marr Chase and CeeDee Lamb.
However, "Undisputed" co-host Keyshawn Johnson — a former No. 1 overall NFL Draft pick who played 11 NFL seasons as a wide receiver — vehemently disagrees. The NFL is a more pass-friendly league that leads to better statistics for wide receivers, but Johnson believes that is more reflective of relatively recent rule changes than of the skill level of the current receiver generation.
"Nobody's really engaging them," Johnson said on "Undisputed" last week. "They don't have to be worried about running an 18-yard dig route and the backside safety and frontside safety coming to collide on you."
"Tyreek Hill is explosive, give him all that. Davante Adams (is) my No. 1 wide receiver in the NFL right now, and Stefon Diggs is right there with him. Justin Jefferson, I mean, I could go on and on about him. But when you talk about the golden age of wide receivers, I personally wish I was born [late enough to play] right now."
Johnson and Brooks, who are longtime friends, recently met for a special-edition "Undisputed" debate, where the two each made their case.
Brooks pointed to development, long before receivers reach the NFL.
"You have to understand that it goes deeper than what they're doing at the pro level," Brooks said. "These guys now are catching hundreds and hundreds of balls at the collegiate level. We've never seen a group of receivers more prepared to play in the National Football League than this era."
Brooks says the high-level development of receivers starts much, much earlier than college.
"When we went to the [NFL] Combine back then and workouts, it was a mystery," Brooks reasoned. "We didn't know what it looked like. These guys have been training since they were 7 or 8 years old — running routes, working on cones, doing ladder drills, all this other stuff. … You weren't doing that at 6 or 7. These guys are doing all of these things, and then with the seven-on-seven [youth football circuit] they're playing year-round. They're fully refining their skills."
Johnson disagrees, arguing that the current styles of NFL offenses and defenses is more responsible for these receivers' success than their own skill development.
"You say it's the reps [Nacua] got at BYU," Johnson said. "No, it's the system that Sean McVay has put him in, because it's the same system that Justin Jefferson is in, the same system that Cooper Kupp is in. All of the pick routes, the motions across formations, free access [to the middle of the field]. 
"When we played, we didn't get free access! Whenever we'd go across [the field] a man would knock your head off. 
"These dudes go across the middle and the sidelines, and they don't have to worry about getting hit. … When you are in the middle of the field, and you are trying to catch a ball, you don't have to worry about being hit. It makes it so much easier to be productive. When you're running a same route in a safety is bearing down on you. It's a bang-bang play. You worried about protecting yourself and catching the football. 
"Now, you can catch the football and not get touched. There are so many long runs you see when guys catch the ball, because the defensive back just stops, he doesn't want to get penalized for knocking somebody's head off. So the tackling is worse."
Johnson also deeply believes that the defenders he had to go up against in his playing days would not be able to play within the current era of NFL playing rules, citing legendary defensive backs such as Champ Bailey, Charles Woodson and Ty Law.
"Imagine [legendary Denver Broncos safety] Steve Atwater [hitting you] when you run a deep dig, playing in this era," Johnson said." He'd get cut, because he couldn't hit anybody [like he did]. … If you're running across the middle or you're running a slant in this era, you don't have to worry about [former Pittsburgh Steelers linebacker] Levon Kirkland buzzing down on you at 280, 285 pounds and worrying about catching the football and getting plastered all over the field. Now, all you've got to worry about is just catching the ball."
And even in that more difficult era, Johnson believes the statistical output from his generation still adds up.
 Johnson and Brooks each comprised a list of top wide receivers during the respected eras to defend their cases — Johnson from 1998-2000, Brooks from 2020-2022. 
Johnson's list, from which he purposefully excluded himself and Undisputed co-host Michael Irvin, included Marvin Harrison, Torry Holt, Rod Smith, Isaac Bruce, Terrell Owens, Randy Moss, Tim Brown, Jerry Rice and Cris Carter. 
Brooks' list includes Jefferson, Chase, Lamb, Hill, Adams, Diggs, DeVonta Smith, Jaylen Waddle and Amon-Ra St. Brown.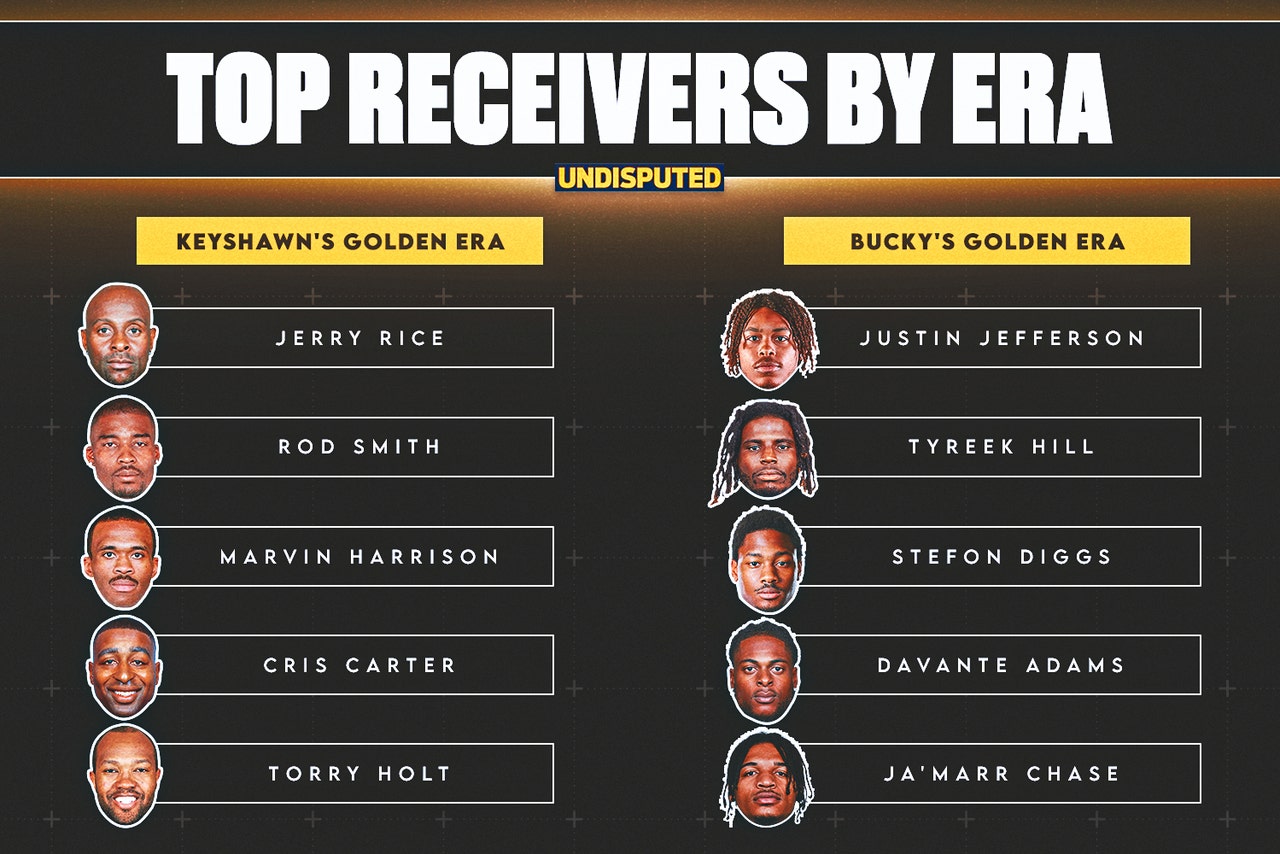 According to Johnson, his group of wide receivers accounted for 36.1% of total NFL passing yards in that span, whereas Brooks' list only combined for 34.3%. 
And while Johnson's group is retired while Brooks' group is still playing, Johnson does not see Brooks' list catching up to the career accolades of 64 Pro Bowl appearances, 24 All-Pro nods and eight Super Bowl wins. (Brooks' active counterparts currently have 23 Pro Bowls, nine All-Pros and one Super Bowl win belonging to Hill in 2019-20 with the Kansas City Chiefs.)
However, Brooks pointed out that the three-year receiving yard average for the NFL leader in his time span was 1,763 yards compared to 1,574 yards for Johnson's time span, with Jefferson eclipsing the 1,800-yard mark in 2022. He also believes the decline in defensive back play in the current NFL era also reinforces his point that receivers are more skilled now than they were back then.
"Now, 'Johnny High School Coach' is taking the four best athletes and putting them out wide, they're gonna spread it out and throw it, so now you're getting a more skilled and more refined a guy who has more experience and expertise playing wideout than in our era," Brooks said. 
"All the guys that used to be shutdown [defensive backs], they're now playing wideout. … [Receivers] don't have to deal with them because they're playing beside them on offense. Wide receiver is now a marquee position."
Johnson countered, however, that those receivers in the NFL now get to play 17 games in a season instead of 16, like the players in his era did, and benefit from easier-to-digest schemes. He used former Broncos wide receiver Rod Smith as an example. 
"They ain't running real routes," Johnson said. "Everything is scanned. … They're running smoke screens and out routes. … They're running trick plays in Kansas City to get touches shovel passes that account for a completion. Those numbers are inflated because of that. If you give Rod Smith 20 of those a year, he'd have 120 more catches. … He played on the numbers, he caught balls on the numbers."
But Brooks thinks Smith, while having a great career for the Broncos, is in a different category than Jefferson because he had to shoulder less of the offensive load for Denver than Jefferson has to for the Vikings. 
"I love Rod Smith. I played against him," Brooks said. "He had a Hall of Fame quarterback in John Elway. Now, I'm not saying we're legislating for Rod Smith to be a Hall of Famer or not, but the emphasis in that era was about the running back. It was making sure they took care of Terrell Davis."
That mentality, at the time, went down to all levels of football, Brooks said. 
"The running backs were the marquee position, so in Little League and high school, everybody your best athlete even to running back because they're the ones that got fed," Brooks said. "Back in the day, Tyreek Hills, the Deebo Samuels, those guys would have been running backs. But now they've made their way to the perimeter. And because they have running back bodies and physicality and strength and explosiveness, you now put them out wide, and they can make it happen. 
"I mean, back in the day, Green Bay used to want to make guys who are returners in the wide receiver room because of their ability to maneuver in open field. We're seeing more of those guys make their way to the wide receiver position and have success. So, in all the little stuff you talked about the now screens, the bubbles, the RPOs, they're now more dangerous."
Brooks said that means that while guys such as Johnson and Irvin would have still been top-tier wide receivers in this era, there is a much higher-level depth of talent at the position now. But Johnson disagreed, saying that the current generation of wideouts could not win one-on-one battles with defensive backs in less receiver-friendly schemes like his generation could, and bringing up former Chiefs special teams ace Dante Hall as an example. 
Johnson claims Hall could have been a more versatile receiver than just a return man in this era in a system like Sean McVay's in the way Nacua and Kupp have been successful. Brooks strongly disagreed, saying that while Hall was one of the best punt returners he has ever seen, he does not think Hall could be even a B-tier deep-threat receiver in this era.
"I think what you're doing is being very nostalgic," Brooks told Johnson.
But Johnson said he was simply trying to defend his generation for playing in less inventive schemes and often going one-on-one against future Hall of Fame defensive backs.
"We'll see in a couple of years when all of these guys get gold jackets because of the numbers they put up," Brooks said.
---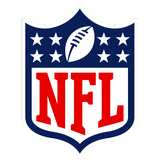 Get more from National Football League Follow your favorites to get information about games, news and more
---