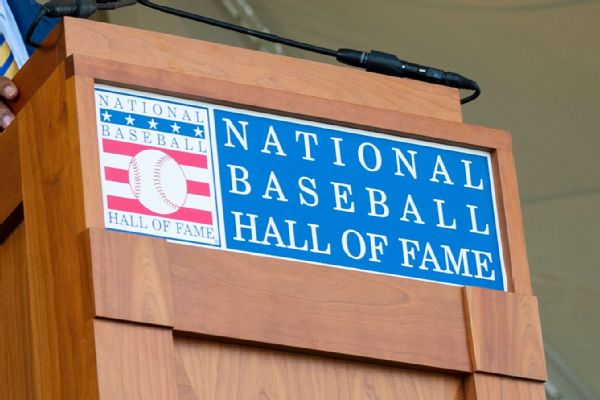 COOPERSTOWN, N.Y. — Jim Leyland, Lou Piniella, Cito Gaston and Davey Johnson are among eight men on the ballot for the Hall of Fame's contemporary era committee for managers, executives and umpires that meets on Dec. 3 at the winter meetings in Nashville, Tennessee.
In addition to the four managers, the ballot includes umpires Joe West and Ed Montague, former National League president Bill White and former general manager Hank Peters, the Hall said Thursday.
The identities of the 16 voters will be announced closer to the meeting, and 75% of the vote is needed for election. Anyone chosen will be inducted into the Hall next July 21 along with players voted in by the Baseball Writers' Association of America, whose balloting will be announced on Jan. 23.
Leyland, 78, won 1,769 games over 22 seasons with Pittsburgh, Florida, Colorado and Detroit, leading the Marlins to the 1997 World Series title. He was voted Manager of the Year in 1990, 1992 and 2006, and he managed the U.S. to the 2017 World Baseball Classic championship.
Piniella, 80, won 1,835 games with the New York Yankees, Cincinnati, Seattle, Tampa Bay and the Chicago Cubs, winning the 1990 World Series with the Reds. His 2001 Mariners won an America League-record 116 games. He was voted Manager of the Year in 1995, 2001 and 2008. Piniella was voted the 1969 AL Rookie of the Year and hit .291 with 102 homers and 766 RBIs in 18 big league seasons that includes titles with the Yankees in 1977 and '78.
Gaston, 79, had 894 victories while managing Toronto for 12 seasons, earning World Series titles in 1992 and '93. He hit .256 with 91 homers and 387 RBIs during 11 seasons.
Johnson, 80, had 1,372 wins for the New York Mets, Cincinnati, Baltimore, the Los Angeles Dodgers and Washington, leading the Mets to the 1986 World Series title. He was voted Manager of the Year in 1997 and 2012. As a player, he batted .261 with 136 homers and 609 RBIs in 13 seasons.
West, 70, umpired a record 5,460 games from 1976 to 2021, breaking the prior mark of 5,375 set by Bill Klem. West worked six World Series.
Montague, 74, worked 4,369 games from 1974 to 2009 and umpired in six World Series, including four as crew chief.
White, 89, was NL president from 1989-94. He was an All-Star first baseman in five seasons and hit .286 with 202 homers and 870 RBIs from 1956-69, and became a Yankees broadcaster from 1971-88.
Peters, who died in 2015 at age 90, was general manager of the Kansas City Athletics in 1965, moved to the Cleveland Indians the following year, was president of the minor league governing body the National Association of Professional Baseball Leagues from 1972-75, then became Baltimore's GM from November 1975 until October 1987 and helped the Orioles win the 1979 AL pennant and the 1983 World Series. He was president of the Indians from 1987 through 1991.
The Hall in 2022 restructured its veterans committees for the third time in 12 years, setting up panels to consider the contemporary baseball Era from 1980 on and classic baseball era for before 1980. The contemporary baseball era holds separate ballots for players and another for managers, executives and umpires.
Each committee meets every three years, starting with contemporary baseball/players last December, when Fred McGriff was elected. Classic baseball meets in December 2024 and contemporary baseball/players in December 2025.
Managers and umpires were eligible if they had 10 or more big league seasons and have been retired for five years, though people 65 and older are eligible six months after retirement. Executives must be retired for five years, but active executives 70 or older are eligible.
The ballot was picked by a historical overview committee that included Bob Elliott of the Canadian Baseball Network, Steve Hirdt of Stats Perform, David O'Brien of The Athletic, BBWAA secretary-treasurer Jack O'Connell, Tracy Ringolsby of InsideTheSeams, Susan Slusser of the San Francisco Chronicle and Mark Whicker of the Los Angeles News Group along with Jim Henneman (formerly of The Sun in Baltimore), Jim Reeves (formerly of the Fort Worth Star-Telegram) and Glenn Schwarz (formerly of the San Francisco Chronicle).
Adrián Beltré, Joe Mauer, Chase Utley, David Wright, José Bautista and Matt Holliday are among the players eligible for the BBWAA ballot for the first time in the upcoming vote. Holdovers include Todd Helton, who fell 11 votes short this year, and Billy Wagner, who was 27 shy.