Sam LaPorta is the only tight end in NFL history to log three or more receptions and 35 or more receiving yards in each of his first eight career games. His four receiving touchdowns are already the third-most by a Lions rookie tight end and there are still nine games left. LaPorta is the highest-graded rookie tight end this season by Pro Football Focus. Under the bright lights of the first Monday Night game in Detroit since 2018, LaPorta had eight receptions for 57 yards and a touchdown. He broke Mike Ditka's record for most receptions by a tight end through their first four games with 22. 
Not bad. 
Even for a tight end out of the University of Iowa.
LaPorta grew up in Highland, Illinois; a town in the southern part of the state, closer to St. Louis than Chicago, with a population of just under 10,000. There, LaPorta was a four-year letterman in football as a wide receiver and defensive back at Highland High School. He ranks second in Illinois high school history in receiving touchdowns (50) and third in receiving yards (3,793). LaPorta also earned four letters in basketball and two in track.
The three-star recruit then went on to Iowa, where he was one of just eight true freshmen to see the field in 2019. The Hawkeyes are known for producing along the trenches and as of late, that includes tight ends.
"Coach Ferentz, you just know what kind of player that you're getting," Detroit general manager Brad Holmes said after drafting LaPorta in the second round of the 2023 NFL Draft. "They just happen to produce some really good football players."
George Kittle, T.J. Hockenson and Noah Fant, just to name a few.
"Their recruiting plan is definitely different than most," said an NFC tight ends coach of Iowa. "Also, their scheme and identity/culture definitely helps the tight end position."
"Kirk Ferentz is an OL (offensive line) coach like Nick Saban knows defensive backs," one NFC director of college scouting told FOX Sports. "It was a perfect match with program, location, coaching style to pump out those type of players."
But it's because of that OL background that a trench-warfare mentality permeates throughout the entire offense. It sets Ferentz's tight ends apart from the rest. Instead of being treated just as big receivers (tight ends are still a driving component of the Hawkeyes' passing offense and regularly lead the team in receiving yards), Iowa tight ends are put through the wringer of all the duties that come with playing the position at the next level. 
"They look for guys that are athletic and have some toughness and [are] dependable," said the same NFC coach. "When they get them, they are forced to have to run block. [It's a] program that pushes toughness — they teach and develop them extremely well. Most college tight ends go to schools that don't try and run it, don't even know how to block."
"[LaPorta] was my favorite coming out last year," he continued. "We would have taken him if he was available."
But LaPorta wasn't available because Detroit snatched him up with the No. 34 overall pick. He was the Lions' favorite among a stacked tight ends class, too. The Iowa influence undoubtedly had a lot to do with it, because in addition to learning how to block, LaPorta excelled in the passing game. He ranks first in receptions and second in receiving yards among all Iowa tight ends. He was also named a permanent team captain.
Even with all of that collegiate success, LaPorta was still projected to be a "good backup with potential to develop into a starter," per NFL Media, ending up with a grade of just 6.18. 
"LaPorta has the ability to threaten zone coverage and will make the basic catches," the NFL Media profile read. "However, he lacks the desired elusiveness and ball skills to come away with the more challenging catches."
Perhaps this is why players like Michael Mayer and Luke Musgrave were touted more highly in this year's pre-draft discourse. LaPorta's selection wasn't met with resounding cheers in Detroit, especially with Mayer still on the board. He was taken right after LaPorta at No. 35 by Las Vegas. The two played each other Monday night. Mayer has 159 yards and no touchdowns so far this season. LaPorta has 434 yards and four touchdowns. And we weren't talking about Mayer following the game in Detroit.
And yet, LaPorta grins sheepishly every time a camera is put in his face. He's slight by tight end standards, standing at 6-foot-3 and 245 pounds. He deflects praise while absorbing blame. The way LaPorta approaches the game, even at the highest level, is more akin to that of a quarterback than a skill player.
"I always say it's cool to stop and smell the roses," LaPorta said in an interview with Detroit's ABC affiliate following that Monday Night Football win. "It's cool to sort of acknowledge what you're doing but then sort of like a 24-hour rule, you can't let a win or loss affect how you prepare for the next week. You can't linger too long on the bad things or the good things. That's football in a nutshell."
Don't let his humility fool you; what LaPorta is doing so well and so quickly in the league is indeed unprecedented. He's caught the attention of some of the best tight ends to ever play the game because of it. Namely, Greg Olsen and Rob Gronkowski.
"Obviously, he's a young player — he's a rookie — but when I put on the tape, I see him winning those matchups where the play is not just getting him open by design," Olsen said on the NFL on FOX podcast. "I think that's an important kind of distinguishing characteristic for a lot of tight ends around the league is, that's why there's the [Travis] Kelces of the world. And that's why there [are] other guys, you know — and it doesn't mean you can't be productive, it just means you're relying on a scheme. 
"I think LaPorta has shown early signs that he's a guy that will benefit from a great scheme, but he's also having the ability to generate his own opportunities by getting open, and I think that's easier said than done, let alone for a rookie," Olsen continued.
Olsen got to know LaPorta at the annual summit, Tight End U, started by George Kittle, Travis Kelce and Olsen himself. Gronkowski participated this offseason, too. There, tight ends from all across the league — rookies and vets alike — hang out for a weekend of both frivolity and learning in Nashville, Tenn. Like the offensive line, playing tight end indoctrinates you into an unbreakable and omnipresent brotherhood.
"Sam LaPorta is definitely changing the game a little bit for rookie tight ends," Gronkowski told FOX Sports. "You have to be a smart player to contribute right away, especially at the tight end position, because you need to know the run game and you need to know the pass game as well. He went to the University of Iowa, they have a great system there. I know a lot of their coaches. Their offensive coordinator was my tight end coach my first two years in New England.
Kirk's son Brian is currently on staff as the offensive coordinator at Iowa but spent time with the Patriots from 2008 to 2011. It shouldn't be surprising that perhaps the greatest all-around tight end in NFL history has a similar foundation to LaPorta's.
"[Ferentz] taught me a lot of things that I never really knew in my career," Gronkowski told The Athletic. "He just taught me these little niches on how to block, how to keep the block going, on what to do, where to place your hands, keep running your feet, and I just loved him as a coach."
It's benefited LaPorta tremendously. So much so, that Gronk admitted LaPorta could be off to a faster start than even he was in his rookie season back in 2010. 
"He can block as well and on top of it, he's got some speed that he can separate from defenders, so he's doing a great job," Gronkowski said. "I had 10 touchdowns my rookie year. I don't think he's going to get 10 touchdowns but he's going to get more yards and catches than I have. 
"But he's not going to get more touchdowns."
We'll see, Rob.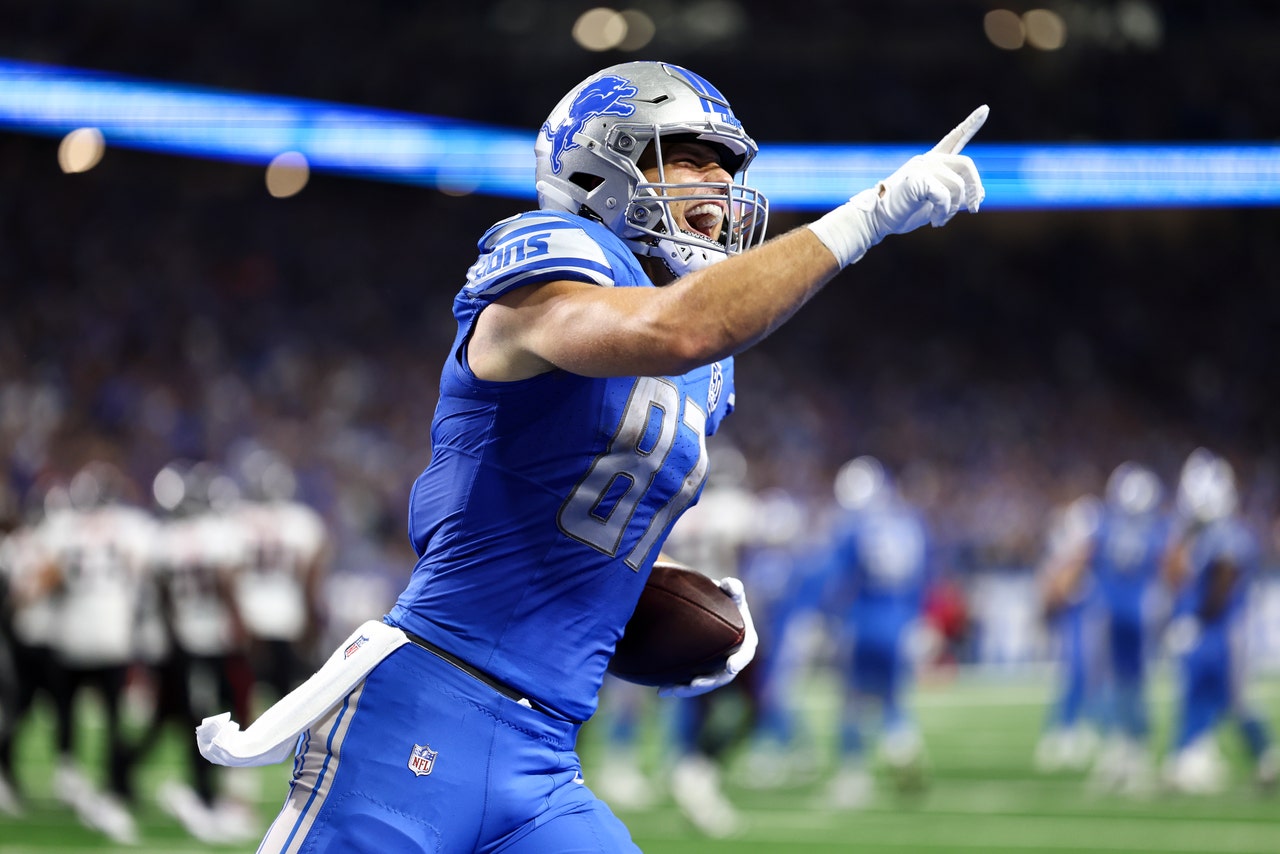 Sam LaPorta celebrates after scoring a touchdown against the Atlanta Falcons on September 24, 2023 in Detroit, Michigan. (Photo by Kevin Sabitus/Getty Images)
LaPorta's uniqueness was immediately evident to the Lions' staff. In training camp, especially, coaches raised eyebrows and whispered amongst themselves as LaPorta got more comfortable within offensive coordinator Ben Johnson's scheme.
"He was faster than I thought initially," one Lions defensive staffer told FOX Sports. "[He] had good body control and hands."
LaPorta ran a 4.59-second 40-yard dash at the NFL Combine, faster than most tight ends. And it seems he takes NFL defenses by surprise week in and week out with his speed.
"He's a guy that can get himself open," Olsen said. "He's a guy that can just win a matchup. He's not so reliant on the perfect scheme versus the perfect defense for him to pop and be the read. He can win. He can find the space, he can win man, he can find holes in zone.
Take that, Combine profile.
LaPorta is now playing a pivotal role in a Detroit offense that is on a tear. The Lions have produced 325 or more net yards in each of their first eight games for the first time since 1954. Detroit rookies have over 1,000 scrimmage yards thanks to LaPorta and running back Jahmyr Gibbs. That's the most of any rookie corps in the league through the first eight weeks of the season.
So while we joke about the fact that the Lions' strategy was just to plug in one Iowa tight end for another after trading Hockenson away in the middle of the 2022 season, that may be exactly what Detroit did.
Hey, it works. 
And so far, LaPorta is looking like an upgrade at the least. At best? He may be the next generational tight end.
Carmen Vitali covers the NFC North for FOX Sports. Carmen had previous stops with The Draft Network and the Tampa Bay Buccaneers. She spent six seasons with the Bucs, including 2020, which added the title of Super Bowl Champion (and boat-parade participant) to her résumé. You can follow Carmen on Twitter at @CarmieV.
---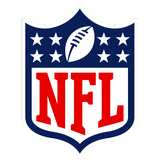 Get more from National Football League Follow your favorites to get information about games, news and more
---