No. 2 Michigan was without coach Jim Harbaugh for its biggest game of the season so far —  at No. 9 Penn State on Saturday — after a judge did not issue a ruling on the school's attempt to at least temporarily lift the Big Ten's penalty against the Wolverines for a sign-stealing scheme.
Michigan athletic director Warde Manuel said 90 minutes before kickoff that Harbaugh would not be at Beaver Stadium with the team. He also said that a hearing in the school's lawsuit challenging the Big Ten's punishment of Harbaugh was scheduled for Nov. 17.
On Friday, hours after the Big Ten banned Harbaugh from coaching the rest of the Wolverines' final regular-season games as punishment for a sign-stealing scheme, the coach and his alma mater filed a request for a temporary restraining order against the Big Ten and Commissioner Tony Petitti.
Their attorneys asked for a speedy decision that would allow Harbaugh to coach against the Nittany Lions in the top-10 matchup that was scheduled to kick off a little after noon Eastern.
"The harm to the university's student-athletes would be irreversible," attorneys for Michigan and Harbaugh said in the filing.
But it was to no avail.
About 2 hours and 45 minutes before kickoff, four buses carrying Michigan players, coaches, Manuel and other staff were greeted by a few dozen Michigan fans lined up behind steel barriers.
Some cheered and yelled "Go Blue!" as the buses emptied. There was no sign of Harbaugh.
One fan yelled out to Manuel: "Let's join the SEC!"
Manuel raised a hand to acknowledge the fans, but otherwise Michigan entered the stadium with little fanfare.
Manuel later released a statement, which said:
"I want to make it clear at the outset of this statement that no one at the University of Michigan is happy to hear of the allegations and preliminary evidence that has come forth about in-person scouting and sign stealing by a member of our football program. No one. We, like every institution in this country, preach and educate all of our student-athletes, coaches, and staff, to adhere to rules and ask questions if something is unclear.
"However, no one here, and no one at other universities around this country, wants to be convicted and penalized without due process of a complete investigation and with significant harm to our student-athletes. This is a fundamental principle of our justice, NCAA and, until yesterday, our conference systems.  Sadly, that is not what happened yesterday.
"Yesterday, under the guise of the NCAA Rule regarding Head Coach Responsibility the Big Ten decided to penalize Coach Harbaugh without knowing all the facts, and I find that completely unethical, insulting to a well-established process within the NCAA, and an assault on the rights of everyone (especially in the Big Ten) to be judged by a fair and complete investigation.  Not liking someone or another university or believing without any evidence that they knew or saying someone should have known without an investigation is not grounds to remove someone from their position before the NCAA process has reached a conclusion through a full NCAA investigative process.
"All of the Head Coaches in the Big Ten (some who have been accused of actively participating in the trading of signals of opponents) and my Big Ten AD colleagues can rejoice today that someone was "held accountable," but they should be worried about the new standard of judgment (without complete investigation) that has been unleashed in this conference.
"You may have removed him from our sidelines today, but Jim Harbaugh is our head football coach.  We look forward to defending Jim's right to coach our football team at the hearing on Friday.  He has instilled his pride, passion, and the team's belief in themselves to achieve greatness.  I will continue to support Jim throughout this process, my coaches and staff, and especially our student-athletes as we continue to play this game and fight to win for Michigan and all who love us."
The conference disciplined the school Friday for an elaborate, in-person scouting scheme that is also being investigated by the NCAA. Michigan leadership insists conference bylaws require the NCAA investigation to play out and that Petitti overstepped his power by doling out punishment.
The Big Ten noted that Michigan is only arguing procedure and process and had conceded the impermissible conduct went on. Conference rivals have been angry and frustrated as evidence mounted that a former low-level staffer was buying tickets to the games of Michigan's opponents and sending people to record video of sideline signals.
The rare punishment of a national championship contender in the final stretch of its season and one of college football's most successful coaches by its own conference has become one of the biggest stories in sports.
On the field, Michigan has been the most dominant team in the country, beating its opponents by an average of 36 points per game and not allowing more than one touchdown in any game. The Wolverines' competition so far has been the only argument against its excellence. Penn State will be the first ranked team Michigan has faced.
Harbaugh's team is vying for a third straight Big Ten championship and appearance in the College Football Playoff.
After Penn State, the Wolverines play at Maryland before the traditional regular-season finale against heated rival Ohio State. The third-ranked Buckeyes visit Ann Arbor, Michigan, on Nov. 25.
The Big Ten's penalty would allow Harbaugh to return for the Big Ten championship game and the playoff, if Michigan makes it.
Reporting by The Associated Press.
---
COLLEGE FOOTBALL trending
---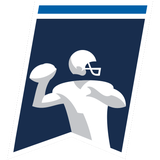 Get more from College Football Follow your favorites to get information about games, news and more
---