Most conversations about the Minnesota Vikings (rightly) revolve around the wonderful story of Josh Dobbs and the team's current five-game win streak. The team may have lost its starting quarterback, but thanks to a former signal caller at head coach, a quick and decisive move to get a viable option under center before the trade deadline and various players stepping up to propel this team forward, Minnesota has legitimate postseason hopes 11 weeks into the year.
And yet…
Vikings outside linebacker Danielle Hunter is tied for the league lead in sacks alongside Myles Garrett with 11. Do you hear Hunter's name being mentioned with Garrett? Or Maxx Crosby? Or T.J. Watt? Hunter has been regularly left off many midseason awards lists (not ours!) despite the Vikings' surprise success and just hasn't factored into the conversation beside other great defenders.
In case you thought Hunter just had sacks, he has contributed 48 combined tackles, three forced fumbles and two passes broken up. Those 11 sacks have amounted to the most sack yards in the league with 79. And Hunter still hasn't hit his ceiling.
More importantly, Hunter is part of a defensive system that is the most aggressive in the NFL and it's not close. The Vikings blitz at the highest rate of any team — 49%. That's nearly half of all defensive plays run and is 6.7% higher than the second-ranked team, the New York Giants.
The reason I say Hunter hasn't hit his ceiling yet is because the defense as a whole hasn't. Minnesota's pressure percentage ranks in the middle of the pack, recording pressure of any kind (hurries, quarterback hits, sacks) on 20.8% of their plays. 
That's indicative of the fact that the defense isn't in its final form yet. All those extra rushers aren't quite getting home as often as defensive coordinator Brian Flores would like. They bring pressure from all levels but Hunter is still 'the guy' defenses end up keying in on. It means Hunter has only recorded 20 pressures this season, which ranks him 13th in the league. But Hunter is nothing if not efficient. The fact that 11 of those 20 pressures have led to sacks is astounding. 
That should only continue to go up the more opposing offenses realize they have to account for varying pressure looks from Flores' defense. If other players on Minnesota's defense start seeing more production in the pass rush, opponents are going to have no choice but to allocate more resources to those players. That should mean more opportunities for Hunter to get one-on-one matchups or mismatches and use his efficiency to take advantage.
Pressure isn't the only way this Vikings defense shows its physicality, either. Hunter is also leading the way with three forced fumbles on a unit with the most forced fumbles in the league right now with 13. Despite ranking 11th in sacks as a whole, Minnesota ranks fifth in sack yards.
They don't just hit you; they hit you hard enough that you either cough up the ball or go significantly backwards. It's the kind of defense Flores has envisioned from the start.
They're incredibly disciplined, too. The defense has registered just 23 penalties all season. Throughout this five-game win streak, the defense has given up an average of just 17.4 points per game. 
Even when Hunter's helmet was tossed off in Sunday's game against the Saints, Hunter kept his cool and moved on. 
"That's what good players do," said Flores on Wednesday. "You make a good play, you move on to the next play. You celebrate it, you enjoy it, you have fun. But you move on to the next play. Bad play, same thing […] Play after play he shows up for us every week. We're going to need him this week."
The Vikings will play the Denver Broncos this week. It will be the Vikings' third prime-time game of four they play this year. That should be enough to shine a spotlight on Minnesota and more specifically, Hunter. Because he needs to be in the conversation among the NFL's elite defenders and there's no excuse for why he's not.
---
MINNESOTA VIKINGS trending
---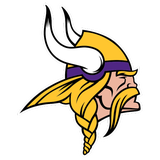 Get more from Minnesota Vikings Follow your favorites to get information about games, news and more
---